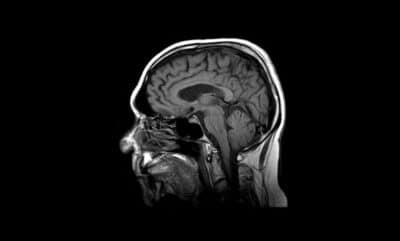 MRI Scan in Puerto Vallarta: Everything You Need to Know about your MRI Scan
MRI Scan at CMQ Hospitals, Using the Most Advanced MRI Equipment in the Puerto Vallarta Region
Whether it is for disease detection, diagnosis, or treatment monitoring, an MRI Scan in Puerto Vallarta is a non-invasive diagnostic imaging technology. An MRI scan is completely painless, and it captures images of the inside of the body and its organs. It can classify all types of lesions, such as tumors or congenital and neurodegenerative anomalies. Because of its high accuracy, it is a very useful study tool for examining different areas of the body. Such as the nervous system, spine, musculoskeletal, and breast lesions.
At CMQ Hospitals we have the most advanced MRI equipment in the Puerto Vallarta and Nuevo Nayarit regions: Our Philips Achieva 1.5 Tesla equipment. Our MRI uses sophisticated software that allows us to obtain high-resolution images in record time. For example, while less up-to-date MRI equipment takes 60 to 90 minutes for a single study, our equipment performs scans in less than an hour. In addition, our Philips Achieva MRI equipment can perform studies on patients weighing up to 250 kilos (550 lbs). Undoubtedly, we have one of the fastest and safest MRI machines in town.
Schedule your MRI scan in Puerto Vallarta here!
What Is an MRI Scan Study?
Magnetic resonance imaging is a diagnostic study that uses powerful magnets and radiofrequency waves to create images of different organs and areas of the human body. It is a technique that allows obtaining high-quality images without using harmful radiation in the process. In addition, MRI studies are of great support to physicians, since this equipment can detect tumors, congenital anomalies, and neurodegenerative pathologies in patients.
How Does the MRI Scan Equipment Work?
The MRI machine is a large, cylindrically-shaped piece of equipment with a scanning bed, on which the person lies down. This bed slides the patient into the MRI equipment, and then, the machine begins to create a strong magnetic field around the person. This powerful field immediately sends out radiofrequency waves that align the protons that exist in the body's tissues. The radiofrequency waves applied to interact with these protons, and produce signals that are detected by a receiver inside the MRI. After this, images of the area being studied are formed.
Risks and Contraindications When Performing an MRI Scan
An MRI study does not use any type of radiation. In addition, no side effects from the magnetic fields and radio waves used have been reported. Likewise, it is a painless scan. 
Nonetheless, there are certain cases in which we recommend you are more cautious:
Pregnancy:

Although MRI scans are not contraindicated in pregnant women, we suggest you inform our specialists if you are (or could be) pregnant.

Patients who have metal in their bodies:

Patients who carry any of these devices must inform the physician or radiology staff in advance:

Pacemakers, heart valves, or hearing implants.

Surgical history of metallic staples.

Prosthesis or metallic implants.
Types of MRI Scans available in Puerto Vallarta
MRI Scan with Contrast Material
In some MRI exams, a contrast material known as gadolinium may be injected into a vein to help interpret the images obtained.  This fluid highlights the organs being studied and makes the images easier to interpret.
Unlike contrast materials used in X-ray studies or CT scans, gadolinium contrast material does not contain iodine. Therefore is unlikely to cause side effects or allergies. The use of contrast is usually associated with situations where the physician may suspect there are tumors, aneurysms, or nerve damage.
MRI Scan in Puerto Vallarta Near Me
Usually, in Mexico, MRI scans are available in the emergency area inside hospitals. Similarly, if you need a non-urgent MRI study, you can request an appointment at independent diagnostic and imaging centers. However, if you need an MRI scan in Puerto Vallarta and Riviera Nayarit, you can find this service inside one of our three hospitals located in the region:
Price of an MRI Scan: How Much Does an MRI Scan Study Cost in Puerto Vallarta?
The price of an MRI scan in Puerto Vallarta may vary depending on the hospital or diagnostic center where you request it. In addition, the cost may increase if it is an urgent study that has not been scheduled. This could also happen if the study is done at night, on weekends, or on holidays. For your convenience, here is a list with the approximate costs of the most requested MRI scans:
| | | |
| --- | --- | --- |
| Name of study | Cost of Simple MRI Scan (Approximate cost of the scheduled study; unscheduled studies have a higher cost). | Cost of MRI Scan with Contrast Media (Approximate cost of the scheduled study; unscheduled studies have a higher cost). |
| Head MRI | $6,562.00 MXN | $8,124.00 MXN |
| Abdominal MRI | $7,187.00 MXN | $9,375.00 MXN |
| Spinal resonance imaging | $5,390.00 MXN | $7,811.00 MXN |
| Breast MRI | $7,187.00 MXN | $9,375.00 MXN |
| Knee MRI | $6,380.00 MXN | $9,975.00 MXN |
| Chest MRI | $6,250.00 MXN | $9,375.00 MXN |
| Shoulder MRI | $6,490.00 MXN | $9,375.00 MXN |
| Hip MRI | $7,200.00 MXN | $9.400.00 MXN |
**The above are approximate costs, they are not final. Please call your nearest CMQ Hospital to schedule your study and ask the exact price of your MRI scan in Puerto Vallarta **.

MRI Scan in Puerto Vallarta: What does my test show?
The interpretation of images obtained through an MRI scan is performed by radiologists. At CMQ Hospitals, our radiologist Dr. Cesar Medina will write a detailed report of your study that includes data on the technique utilized, whether or not contrast medium was used, and the findings or results that could be indicative of different pathologies of the organ or area studied. In the following example, Dr. Medina gives us his clinical opinion of the following images obtained by means of a magnetic resonance study: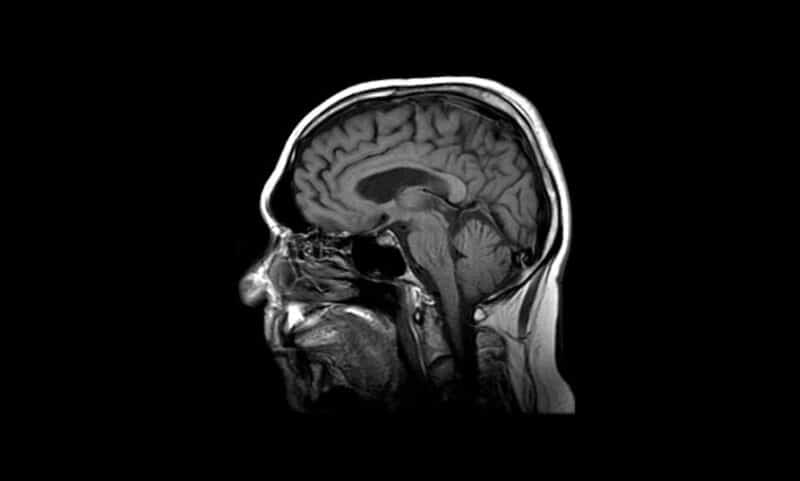 Head and Brain MRI

T1 sequence in sagittal section showing normal brain, stem, and cerebellum.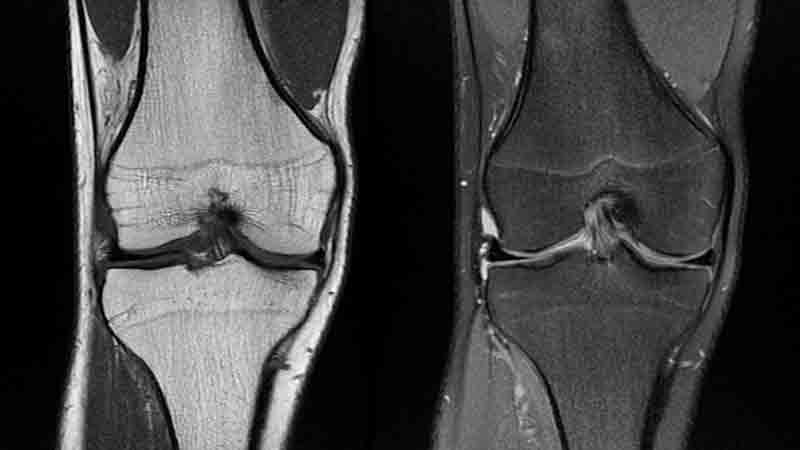 Knee MRI
Coronal proton density sequence on the left, fat suppression on the right, with grade 2 lesion of the anterior cruciate ligament. In addition to a slight distension of the synovial capsule.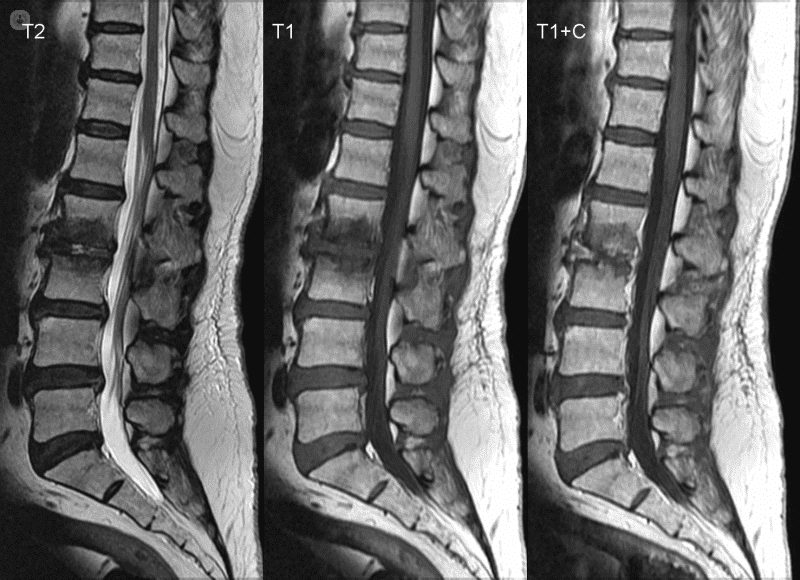 Spine MRI
Study of lumbar spine in sagittal plane, sequences from left to right: T2, T1 and T1 with gadolinium. It shows spondylodiscitis of the L2-L3 intersomatic space.
 
How Should I Prepare for My MRI Scan?
Before an MRI study, you can eat and drink water as usual, unless you are instructed otherwise. You will be asked to put on a hospital gown and to remove all objects that may affect the images of your study. Objects such as jewelry, glasses, hearing aids, dentures, hairpins, among others, must be removed before going into the MRI room.
Our Radiology department will help you lie down on the MRI bed. The bed will slide into the MRI machine. If you suffer from claustrophobia, anxiety, or nervousness, you can tell this to our technicians using the microphone included in the MRI equipment. We will always be attentive to your needs, to make your experience as pleasant as possible.
Frequently Asked Questions about MRI Scan in Puerto Vallarta and Riviera Nayarit