Clinical Laboratory Services at Hospitals CMQ in Puerto Vallarta & Riviera Nayarit
Hospitals CMQ maintains a full-service department of laboratory performing clinical analysis on blood, tissue and other body fluids: Sanlor Marina Laboratory. Providing optimal service to in-hospital-patients and to external patients. We provide clinical lab tests to in-hospital-patients and to external patients to diagnose and treat diseases and to monitor the patient's health and wellness. Highly trained technicians perform a variety of lab analysis on state-of-the-art facilities and instrumentation in:
Urinalysis
Bacteriology
Transfusion Services
Hematology
Chemistry
Immunology
Sanlor Marina Laboratory History
Sanlor Marina Laboratory begins with the enterprising spirit of Genaro Ruan Arias a Chemist Bacteriologist and Parasitologist who after having finished his studies at the National Polytechnic Institute of Mexico City, abbreviated IPN, and after working in important hospitals, decided to become independent and move to the state of Michoacán, where he opened his first clinical laboratory in 1979.
After the opening, he began to realize the lack of medical services in neighboring towns and decided to build some branch offices in the region. Time passed, and in the year 2000, the horizons of Sanlor Marina Laboratory expanded with the opportunity to establish for the first time inside a hospital in the beautiful city of Puerto Vallarta.
Years later, in 2003 we opened our laboratory in Hospital CMQ City Center, in 2008 inside Hospital CMQ Premiere and in 2017 in the new Hospital CMQ Riviera Nayarit. We have worked for more than a decade with Hospitals CMQ, doctors and specialists, providing our patients with the best and most efficient service.
Clinical Laboratory Services at Hospitals CMQ
Your health care provider will order the lab tests necessary for your medical care. A lab test can collect a small sample from your body and can give your provider information that can help save or improve the quality of your life. Sanlor Marina Laboratory at Hospitals CMQ is open 24 hours/day, seven days/week by certified laboratory professionals. The laboratory operates as part of Hospitals CMQ system providing rapid access to the patient's clinical information. Patient orders, scheduling and results become part of an electronic medical record available through Sanlor Marina Laboratory system.
Chemistry
Chemistry lab tests are a group of tests that are routinely ordered to determine a person's general health status. They help evaluate the status of several major body organs. The chemistry lab test is performed on a blood sample, usually drawn from a vein. Common tests analyzed in the chemistry laboratory:
Glucose

Cholesterol

Blood urea nitrogen (BUN)

Creatinine

Potassium

Liver and heart enzymes

Thyroid

Hormones

Prostate-specific antigen (PSA)
Hematology
Hematology lab tests study the blood, blood morphology and blood disorders. A hematological lab test can help diagnose anemia, various infections in the blood, hemophilia, blood-clotting disorders, and leukemia. Common hematology tests:
Complete blood count (CBC)

White blood cell count (WBC)

Red blood cell count (RBC)

Platelet count
Microbiological Analysis
Microbiological analysis study diseases caused by microorganisms. Microbiology identifies infectious agents in tissues, bone marrow, urine, blood, feces, and other body fluids. These microorganisms can include bacteria, fungi, parasites, and viruses. Common microbiological tests:
Blood culture

Stool culture

Urine culture

Burn, tissue, and wound culture

Throat swab

Nasal swab
Transfusion Services
The transfusion services provided by Sanlor Marina Laboratory work from the process of collecting blood through a donation to testing, processing, storing and transfusing blood and its components. These services can help treat severe anemia, cancer, and bleeding disorders, by providing red cells, plasma or platelets.
Immunology
Immunology is the study of the body's immune system and its functions and disorders. Immunology lab tests focus on identifying antibodies, investigating problems with the immune system and determining organ, tissue, and fluid compatibility for transplantation. The common immunology tests are:
Immunoglobulins

Rheumatoid factor

Human leukocyte antigens typing (HLA)
Surgical Pathology
The study of tissues removed from patients during surgery to help diagnose a disease and determine a treatment plan. Surgical pathology includes both the physical exam of the tissue and a processed exam under a microscope. This is ideal to distinguish between benign and malignant white blood cells, detect early genetic changes that may result in cancer, and to identify infectious agents in body tissues.
Cytology
Cytology lab test evaluates specimens from various body sites for the detection of cancer, precancerous changes, and other benign conditions. It's also used to screen fetal abnormalities, pap smears, and to diagnose infectious organisms. The most common type of specimen processed in the Cytology department is the Pap smear.
Genetic Toxicology Testing
Genetic toxicology studies are conducted to assess the potential for induction of genetic mutation or chromosomal damage. This type of testing is required for all classes of chemicals and drugs, and are of great importance because genetic damage can cause an increase in the incidence of heritable diseases and cancer in human populations. The most common types of genetic toxicology testing are:
Ames Assay

In vitro Chromosomal Aberration Assay

Mouse Lymphoma Gene Mutation Assay
Blood Bank
Blood banking is the process of collecting, testing, processing, and storing blood for later use. Sanlor Marina Laboratory ensures the safe use of the collected blood and its components.
How to Find a Laboratory Near Me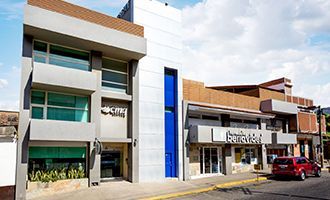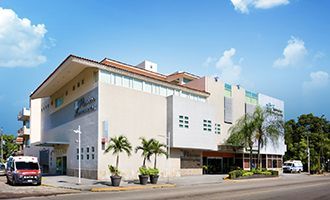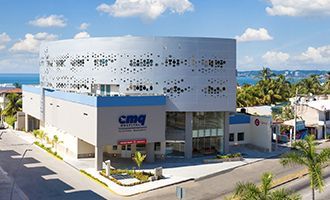 CMQ City Center
Located five minutes away from the "Malecon", the romantic zone, Olas Altas, Conchas Chinas and Amapas; in Downtown Puerto Vallarta.
Hours of operation
Monday through Fridays:
9am to 9pm
Saturdays: 9am to 1pm
Emergencies: Open 24/7
Address:
Basilio Badillo 365
Colonia Emiliano Zapata
Puerto Vallarta, Jalisco, Mexico
CMQ Premiere
Located five minutes away from Fluvial Vallarta, Costco, Marco Plaza, Pitillal, Las Aralias and the main hotel zone.
Hours of operation
Monday through Fridays:
9am to 9pm
Saturdays: 9am to 1pm
Emergencies: Open 24/7
Address:
Avenida Francisco Villa 1749
Colonia Vallarta Villas
Puerto Vallarta, Jalisco, Mexico
CMQ Riviera Nayarit
Located in Bucerias, Bahia de Banderas; minutes away from Nuevo Vallarta, La Cruz de Huanacaxtle, Sayulita & San Pancho.
Hours of operation
Monday through Fridays:
9am to 9pm
Saturdays: 9am to 1pm
Emergencies: Open 24/7
Address:
Avenida Heroe de Nacozari # 280
Zona Dorada, Bucerias
Bahia de Banderas, Nayarit, Mexico
How Do I Prepare for a Lab Test
Sanlor Marina Laboratories staff is always willing to help you have the best experience possible. Nonetheless, arriving prepared can help make your visit go smoothly. After all, the most important factor in determining the accuracy and reliability of your lab test result is you. Therefore, here are some simple steps you can follow for success during your visit:
Bring your doctor's order. Although not obligatory, is better if you bring a note from your health provider with the specifics for your lab tests. 
Schedule your appointment. Minimize your wait by making an appointment. We do allow walk-ins, but having an appointment is the preferable way, as we can give you some instructions you can follow before your test. 
Arrive early. If you have an appointment, we recommend you arrive at least 10 minutes early to the set date. If you're a walk-in, one thing to keep in mind is that our lab is at its full capacity in the mornings. 
If you're having a blood test, make sure you drink plenty of water. Not taking in enough fluids can make your body dehydrated and this may affect some test results. Find out here some unusual signs of dehydration.
Inform your phlebotomist if you are taking any medications, such as anticoagulants (

blood-thinners

). 

Follow instruction. Some tests, like cholesterol and glucose, require fasting for at least 8 hours or even overnight. Other tests may require you to increase or decrease the amount of water you drink for 10 to 12 hours prior to the test.
Eat breakfast. Unless fasting is a must for your test, eat breakfast to help you keep your blood sugar up. 
Relax. If you are feeling anxious about what is going to happen, we recommend you ask the person taking your sample what he or she is going to do. Keep in mind that Sanlor Laboratories at Hospitals CMQ have highly trained staff ready to assist you if any problem arises. 
Bring something to eat and drink. After you have your blood drawn you can immediately have a snack and resume your regular diet after your test. 
The bandage can be removed after an hour of the test. Bruising may occur at the blood draw site. Apply some ice and give it time. 
It should be noted that many tests require no special preparation. But for those that do is better to ask your provider to give you a written copy with the instruction to follow. One of the more common types of preparation required for testing is fasting for several hours before the test or even overnight. Another important thing to know is that if you are collecting the sample from your home such as urine, stool or semen, you could be asked to follow certain procedures to transport the sample from home to the lab.
Clinical Lab Tests List and Services at Hospitals CMQ
Complete Blood Count CBC
A complete blood count is one of the main clinical studies for a general evaluation of a patient's health. Consists of evaluating the cells that make up the blood, such as:
Red blood cells or erythrocytes

White blood cells or leukocytes

Platelets
| | |
| --- | --- |
| Time of delivery | The same day |
| Urgent delivery time | 1 hour |
| Terms | Does not require fasting or special preparation |
Blood Chemistry
Blood chemistry is a group of blood tests that allow the lab to evaluate the metabolism and chemical balance of the organism. Some parameters that are measured in this study are:
Glucose: measures the amount of sugar in the bloodstream. It's useful in the diagnosis of diabetes.
BUN and Creatinine: measures the metabolic residues in blood in order to evaluate the functioning of the kidney.
Uric Acid: high levels of uric acid produce a disease known as

gout

, which is characterized by causing severe joint pain. 
| | |
| --- | --- |
| Time of delivery | The same day |
| Urgent delivery time | 1- 2 hours |
| Terms | It requires fasting from 8 to 10 hours |
Lipid Profile
A lab test that measures the concentration of fats in the blood, such as HDL cholesterol, LDL, and triglycerides. These tests are highly important since both cholesterol and triglycerides can clog the arteries and cause heart disease, cardiovascular strokes or atherosclerosis. 
| | |
| --- | --- |
| Time of delivery | The same day |
| Urgent delivery time | 1 hour |
| Terms | Requires fasting from 10 to 12 hours |
Urinalysis

Set of tests that detect different components that the kidney eliminates through urine. These tests are useful to evaluate the functioning of the kidneys, glucose levels, metabolic problems and some infectious processes of the urinary tract. 
| | |
| --- | --- |
| Time of delivery | The same day |
| Urgent delivery time | 1 hour |
| Terms | The first urine is collected in the morning. However, it is possible to collect the sample during the day, as long as the patient doesn't drink lots of liquids.  |
Coagulation Tests PT, aPTT, and TT
Tests that determine how long it takes for the blood to clot. It useful to know if a patient is a candidate for surgery, also to diagnose liver deficiency, and to monitor different treatments with anticoagulants.  
| | |
| --- | --- |
| Time of delivery | The same day |
| Urgent delivery time | 1 hour |
| Terms | Does not require fasting or special preparation |
Sexually transmitted diseases
Also known by its initials STDs, are a group of infectious diseases that are transmitted from one person to another through sexual contact. These include:
HIV: test that detects the presence of antibodies in the blood or oral fluid. 
VDRL: the venereal disease research laboratory (VDRL) test is used for screening of syphilis.
Hepatitis B (VHB): test that works evaluating the infection caused by the hepatitis B virus in the liver.
Hepatitis C (VHC): works assessing the viral infection hepatitis C virus that causes inflammation of the liver.
Time of delivery

The same day

Urgent delivery time

2 hours

Terms

It does not require fasting or special preparation. 

Note: for the HIV test it is necessary to present an official identification and a letter of consent. 
Seasonal Diseases
Seasonal diseases have that name because they hit at certain times of the year. The two most common are influenza and dengue. 
Influenza: happens annually, although the most usual months are usually between December and February. To perform this test, a sample of the mucus from the nose must be obtained by scraping both nostrils.
| | |
| --- | --- |
| Time of delivery | The same day |
| Urgent delivery time | From 45 minutes to an hour |
| Terms | It does not require fasting or special preparation. |
Dengue: a disease transmitted via mosquito bite. It usually happens in tropical and subtropical weather and zones. This test detects the presence of the virus in the blood of the patient. 
| | |
| --- | --- |
| Time of delivery | The same day |
| Urgent delivery time | 1 hour |
| Terms | It does not require fasting or special preparation.  |
Prostate-Specific Antigen (PSA)
The prostate-specific antigen test is a blood test used to screen for prostate cancer. It measures the PSA, a protein made by the prostate, in the blood. Men normally have low PSA levels in their blood. A high PSA level may be a sign of prostate cancer. 
| | |
| --- | --- |
| Time of delivery | The same day |
| Urgent delivery time  | 2 hours |
| Terms | Avoid sexual activities with ejaculation 24 hours before the exam. |
Most Common Study Profiles
General basic exam:
Complete blood count (CBC)

Blood chemistry tests (glucose, urea/BUN, creatinine, uric acid)

Lipid profile (cholesterol HDL, LDL, triglycerides)

Urinalysis
For men under 40 years old:
Complete blood count (CBC)

Blood chemistry tests (glucose, urea/BUN, creatinine, uric acid)

Lipid profile (cholesterol HDL, LDL, triglycerides)

Thyroid-stimulating hormone (TSH)

Urinalysis
For men over 40 years old:
Complete blood count (CBC)

Blood chemistry tests (glucose, urea/BUN, creatinine, uric acid)

Lipid profile (cholesterol HDL, LDL, triglycerides)

Prostate-Specific Antigen (PSA)

Thyroid-stimulating hormone (TSH)

Calcium

Liver function test

Fecal occult blood test (FOBT)
For women under 40 years old:
Complete blood count (CBC)

Blood chemistry tests (glucose, urea/BUN, creatinine, uric acid)

Lipid profile (cholesterol HDL, LDL, triglycerides)

Thyroid-stimulating hormone (TSH)

Urinalysis
For women over 40 years old:
Complete blood count (CBC)

Blood chemistry tests (glucose, urea/BUN, creatinine, uric acid)

Lipid profile (cholesterol HDL, LDL, triglycerides)

Thyroid-stimulating hormone (TSH)

Carcinoembryonic Antigen (CEA)

Calcium

Liver function test

Fecal occult blood test (FOBT)
Frequently Asked Questions about Clinical Laboratory Services