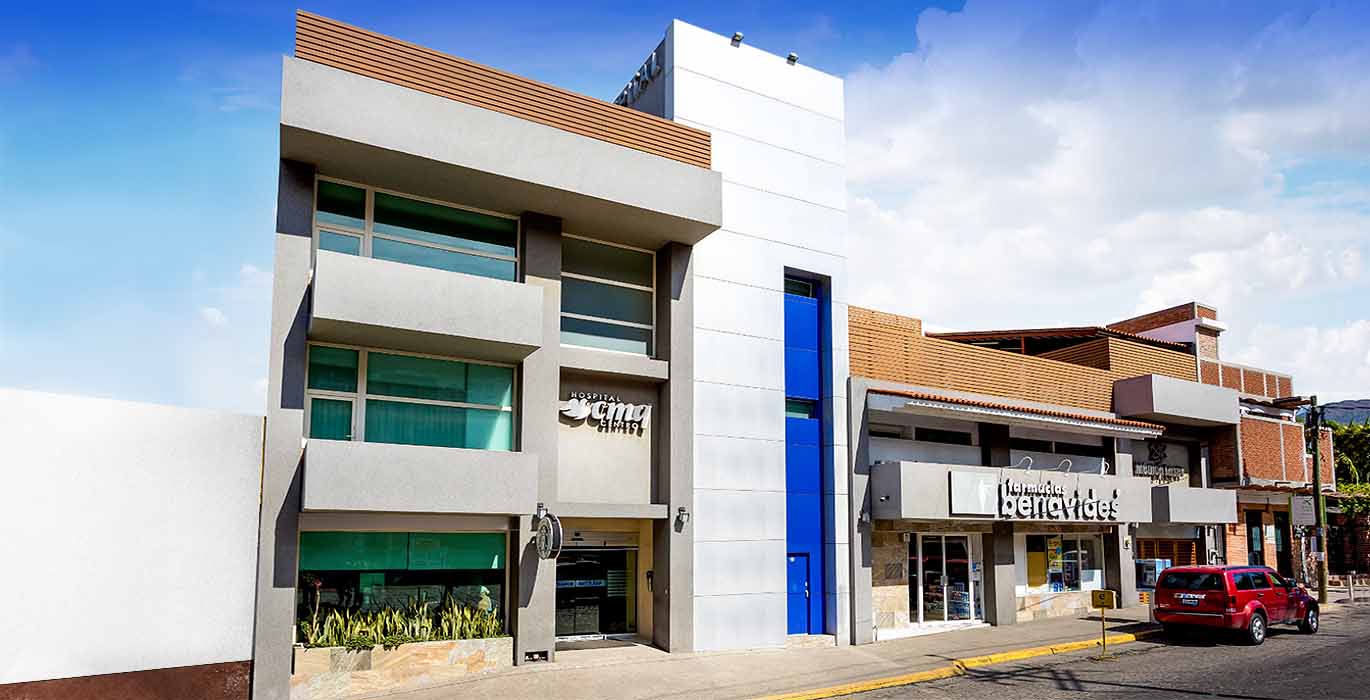 MEDICAL LEADER AND PIONEER IN PUERTO VALLARTA
As the first private facility established in the region, Hospital CMQ City Center has evolved to serve the healthcare needs of Banderas Bay, Puerto Vallarta and Riviera Nayarit. Consequently, our hospital has been setting the highest standards in quality, innovation and patient-centered care since 1982.
Today, Puerto Vallarta has become a popular international tourist destination. As such, our city has a diverse and aging population that requires a wide range of medical services. Accordingly, Hospital CMQ City Center has evolved to meet the healthcare needs of our international tourists and local residents.
Medical Services and On-site Specialists at Hospital CMQ City Center
Our hospital provides exceptional medical care. In addition, we offer services ranging from: preventive medicine, primary care, urgent care and family medicine, to international patient services, medical tourism, air and ground ambulance transportation, 24-hour emergency medicine and surgical care. Hospital CMQ City Center is the only facility in central Puerto Vallarta.  Our hospital has more than 20 on-site board-certified specialists at your service. Consequently, we are able to provide quick and easy access to urgent care, walk-in and emergency services.
OUR LOCATION – HOSPITAL CMQ CITY CENTER, IN THE HEART OF PUERTO VALLARTA
Our Address:
Basilio Badillo 365, Colonia Emiliano Zapata,
Puerto Vallarta, Jalisco, Mexico C.P. 48380.
Tel. 52 322 22 31919
Hospital CMQ City Center is located in a magical setting in the heart of Puerto Vallarta. Our Hospital is surrounded by the pristine Sierra Madre Mountains and the Pacific Ocean. Nearby, you will find beautiful cobble stone streets and typical Mexican town houses with terracotta roof slates. Accordingly, Hospital CMQ City Center is the largest hospital in central Puerto Vallarta.
We proudly provide medical services the following neighborhoods: Downtown Vallarta, El Malecon, the Romantic Zone, Conchas Chinas, Amapas, Gringo Gulch, the Southern Hotel Zone, Mismaloya, El Nogalito, Boca de Tomatlan, Las Juntas y los Veranos, El Tuito and Tomatlán.
We are open 24 hours a day, 7 days per week (Open: 12:00 am – Close: 12:00am)
EMERGENCY MEDICAL TRANSPORTATION IN PUERTO VALLARTA AND RIVIERA NAYARIT
Air Ambulance & Ground Ambulance Service
"When time means life, immediate care is paramount. Hospital CMQ's Emergency Medical Transportation in Puerto Vallarta is always close by!."
In case of an emergency, call your nearest Emergency Medical
Transportation Service: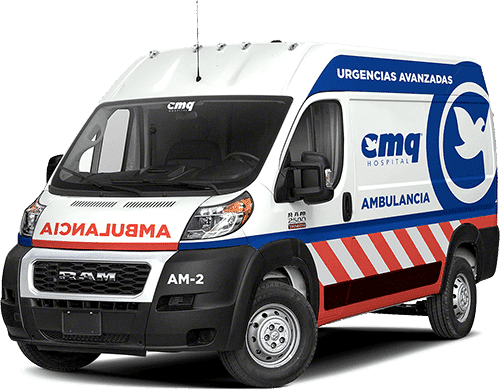 AT HOSPITAL CMQ CITY CENTER, WE ACCEPT MOST TRAVEL INSURANCE AND HEALTH INSURANCE PLANS
We also offer affordable self-pay rates for uninsured patients.
IMPORTANT NOTE: if you are planning to pay for your medical care using your health insurance coverage, please remember to bring a valid identification and your insurance card and/or proof-of-insurance.
Emergency area: Our emergency area is open 24/7. It is fully equipped with two emergency room beds, one cast/plaster room for minor fractures, one shock room and one minor procedure room. 
Urgent Care and Walk-in Clinic: Hospital CMQ City Center's Urgent Care and Walk-in Clinic is always open and near by. We provide convenient services for your health needs, with professional, friendly and bilingual staff. Thus, avoid the wait times and get immediate care. Come visit our urgent care and walk-in clinic located in downtown Puerto Vallarta.
To provide the best care in sudden or severe medical conditions and injuries, our emergency physicians have the following certifications:
• ALS – Advanced Life Support
• ATLS – Advanced Trauma Life Support
• ACLS – Advanced Cardio Life Support
MEDICAL SERVICES AT HOSPITAL CMQ CITY CENTER
In addition, Hospital CMQ City Center's emergency area is equipped with the following:
Mobile Digital X-Ray Equipment
Mobile Ultrasound Equipment
CT Scan Equipment
Endotracheal Intubation Set
Puritan Bennet Acute Care Ventilator
Welch Allyn Connex Vital Signs Monitors
Hospital Floor and Patient Rooms: Our facility has seven private patient rooms, and is equipped with the following amenities:
Modern Hill-Rom patient beds
Sofa Bed
Nurse call system in bed and bathroom
Recliner
Overbed Table
Bedside Cabinet
Flat Screen HDTV – High Definition Television
Operating Rooms: Hospital CMQ City Center has two state-of-the-art operating rooms. One OR is for minor surgical procedures. Our second OR is a fully equipped operating room for major procedures.
Common surgical procedures performed in Operating Room One. For major surgical procedures:
Appendectomy
Carotid endardectomy
Cesarean section
Cholecystectomy – Gall Bladder removal
Coronary artery bypass
Gall Bladder surgery
Hysterectomy
Mastectomy and partial mastectomy
Prostatectomy
Releasing of peritoneal adhesions
Common surgical procedures performed in Operating Room Two. For minor surgical procedures:
Incision and Drainage
Central Venous Pressure Monitoring
Tracheostomy
Thoracentesis
Lumbar Puncture
Intubation
Urethral Catheterization
Circumcision
Debridement
Breast biopsy
Dilation and Curettage
Hysteroscopy
Tonsillectomy
How to get to Hospital CMQ City Center