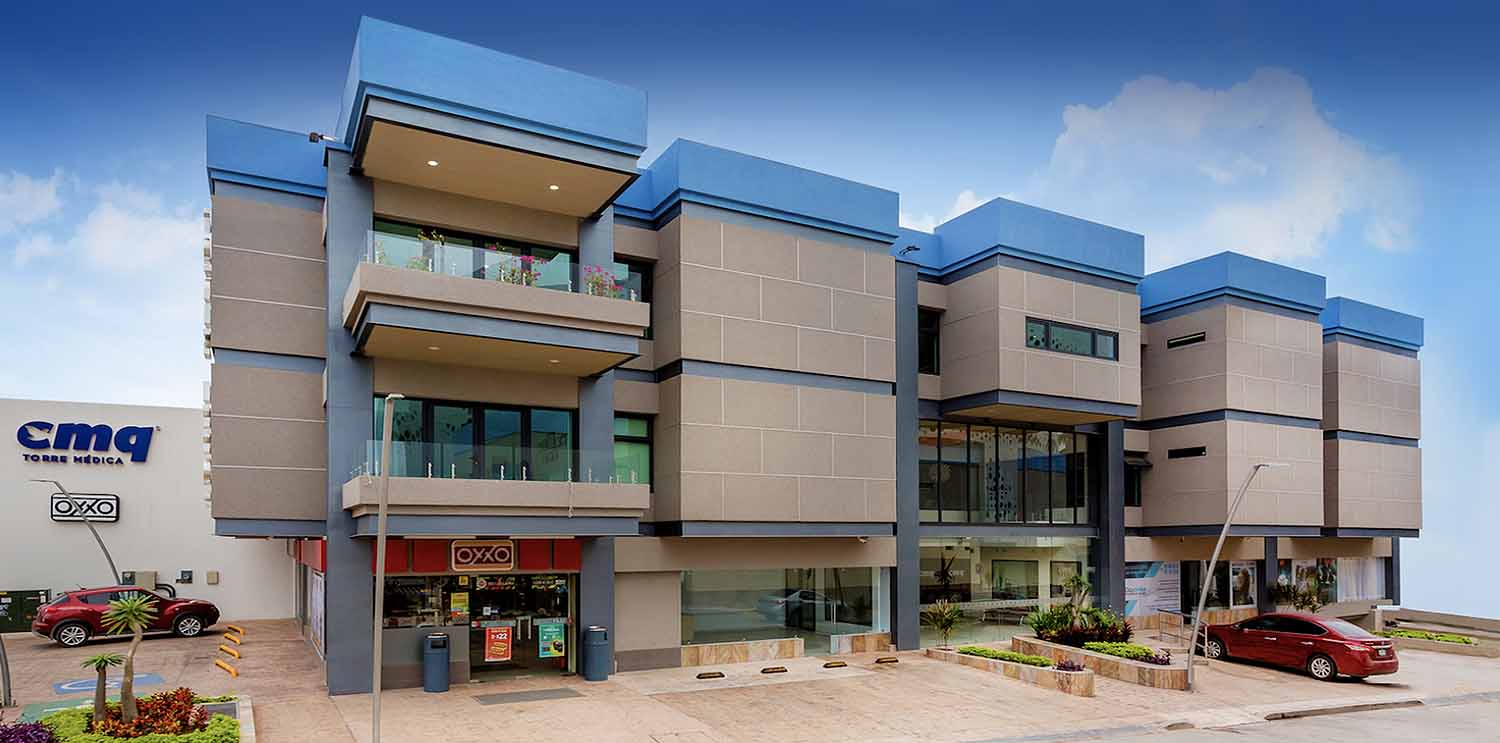 Hospital CMQ Physicians Building – Every specialty you need in one place.
Annexed to CMQ Riviera Nayarit Hospital is our Physicians Building, a structure with more than 20 highly qualified medical specialists who are committed to healthcare.
Comprised of modern facilities and comfortable offices on its two floors, this construction brings quality integral medical services to the populations of Nuevo Vallarta, the developments of Punta Mita, La Cruz de Huanacaxtle, San Pancho, and Sayulita. Our Physicians Building offers a wide range of excellent medical specialties for the prevention, recovery, and conservation of your health.
Lobby
Consulting Room
Doctor
Specialty
Local 1
OXXO Store
–
Local 2
–
–
Local 3
Dr. Mónica Orozco
Ophthalmology and Optics
Local 4
Pod. Paty Villanueva
Dr. Sandra Castellón
Podology
Dermatology
First Floor
Consulting Room
Doctor
Specialty
301
Dr. Luciano Aguirre
Otolaryngology
302
Dr. Carmín Rodríguez
Gynecology
303
Dr. Francisco del Toro
Dr. Edgar Barajas
Traumatology and Orthopedics
304
Dr. Alejandro Guerrero
Dr. Carlos Durán
Plastic Surgery
Gastro Surgery
305
Dr. Raúl Meza Díaz
Dr. Luis Chacón
Urology
Gynecology
306
Dr. José Francisco González Avelar
Dr. Paula González Cruz
Gynecology
Pediatrics
307
Dr. Jorge Yáñez
Dr. Joel Sánchez
Dra. Nadia Fierro
Neurosurgery
Cardiology
Cardiology
308
Dr. Geraldo Cervantes
Pediatrics
309
–
–
Second Floor
Consulting Room
Doctor
Specialty
310
Dr. Javier Díaz
Dr. Lorena Ursulo
Otolaryngology
Otolaryngology
311
Dr. Sergio del Hoyo
Gastro Surgery
312
Dr. Adrián Malja
Dentistry
312-A
Dr. Max Greig
Dr. Cesáreo Gutiérrez
Traumatology and Orthopedics
Physical Therapist
314
Dra. Leslie Swindle
Dr. Antonio Matilla
Dra. Cintiha Martínez
Dr. Leonel Molina
Cardiology
Internal Medicine and Autoimmune Diseases
Angiology
Cardiology
315
Dr. Gustavo Navarro
Dr. Alberto Robles
Spine Clinic
Angiology
316
Dr. Ricardo Rivera
Dr. Alejandro Guerrero
Plastic Surgery
Plastic Surgery