Bucerias, place of divers
Bucerias is a small town that is part of Banderas Bay; known for its folklore, food, and lifestyle. This town located right in between Nuevo Vallarta and Punta de Mita is only 15 minutes away of Puerto Vallarta, and therein you may enjoy its peaceful beaches, rides over the bay in a parachute, swimming, windsurfing and just enjoying an unhurried evening.
Bucerias means "divers place" and it happens that this 8-kilometer stretch of white sand and shallow waters with almost no surf turn Bucerias into the diver's spot. Its beautiful and colorful streets are a refreshment of Mexican traditions, its churches, marketplaces, and parks seduce tourists worldwide.
Because of its excellent quiet beaches, Bucerias part of the Bay is famous for hosting open sea fishing tournaments for several species such as swordfish, marlin, mahi-mahi, roosterfish, sand shark, bass, and other fish. In addition to fishing, traditional festivities of the region hold great importance to the people, one of them the festivity for the Lady of Peace celebrated in the month of January, consisting of a set of pilgrimages carried out at sea on boats donned with religious motives and renderings.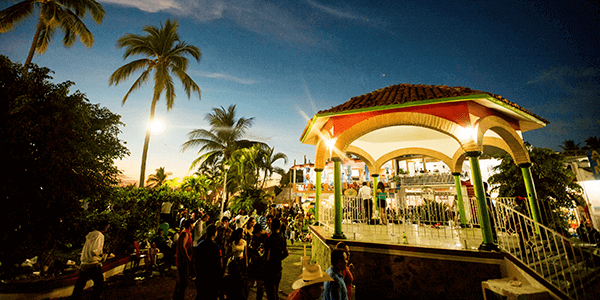 If you are a night person, Bucerias offers interesting activities such as the Art Walk Night, a totally entertaining night walk alluring visitors into the art-craft stores, and local galleries showing the traditional art of the place.
Its varied weather year-round allows visiting throughout the entire vacation period. Being surrounded by high-end highly recognized names, Bucerias gastronomy is not to be disregarded; a traditional and international fusion producing dishes highly regarded such as Pescado Zarandeado, oyster enchiladas, and white fish ceviches.
Enjoy Mexican lifestyle and traditions by visiting Bucerias; walk its cobbled streets, full of history, visit its marketplaces and galleries. Bucerias is a hidden town at the edge of the highway that you must see. Slowly transforming from a contemporary town into an interesting and modern township.
---