Punta de Mita, the Nayaritan nirvana
Only 20 kilometers out of Bucerias there is the Riviera Nayarit's hidden paradise: Punta de Mita. An exotic entourage formed by volcanic rock and a lush variety of vegetation. This high-end luxury place has been the heaven of peace to many well-known celebrities.
A 10-kilometer stretch of unspoiled beaches and a green hillside; Punta de Mita is ideal to relax while sipping in the turquoise blue energy the Pacific ocean lavishes on you. This is a relaxation site with attractions and entertainment for all ages year round.
One such attraction is the most exclusive and famous Jack Nicklaus Signature Punta Mita Golf Club; built-in 1999 for the Punta Mita Club members, the Four Seasons and St. Regis Resorts hotel guests. Try out two courses with entirely different difficulty ranges: Pacifico course and Bahia course.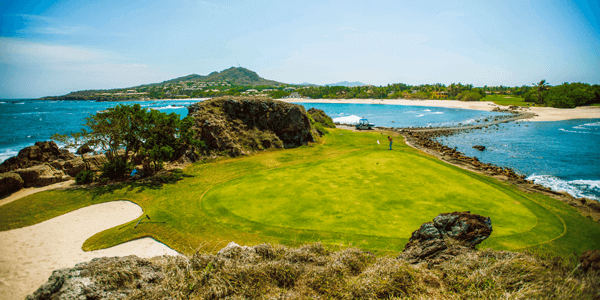 Great hoteliers such as Four Seasons and Grand Palladium were pioneers at these beaches of warm water with coral reefs, turtles, manta rays and lobster. The perfect place to enjoy a man-nature communion. Its cuisine displays a great variety of seafood not disregarding the international fusion offered by several restaurants.
Punta de Mita is a versatile destination with countless opportunities of fun for all tastes; multiple unique activities to be carried out such as kayaking, horseback riding, exploring its cliffs or just relaxing contemplating the famous Marietta Islands seen afar, reachable by boat from any beach on the location.
Not much heard of but of like importance is the town of Higuera Blanca, only a few minutes away from Punta de Mita; a highly interesting place especially to archaeologists due to the Pre-Hispanic settlements found in the area and its golden beaches alluring both international and local tourists.
Tranquility, romanticism, and inspiration flourish visiting Punta de Mita, ecological nirvana of unspoiled beaches and magical sunsets.
---