A Look Inside Your Heart with Our Cardiac MRI in Puerto Vallarta
This new study available only at CMQ Hospitals, signals a medical breakthrough in the Puerto Vallarta and Banderas Bay region
The cardiac MRI study is now available in Puerto Vallarta. Our CMQ Riviera Nayarit Hospital is the only private hospital that offers this new and advanced imaging study. This technique offers a tremendous diagnostic capacity for various heart diseases. As a result, our specialists can give you a comprehensive approach and personalized treatment. 
At CMQ Hospitals, we are committed to providing medical excellence and access to first-class technologies, in the hands of highly trained specialists.
Schedule your heart MRI scan today by calling 329 298 0717!
Your Cardiac MRI Study in the Hands of Highly Trained Specialists
At CMQ Riviera Nayarit, we have state-of-the-art MRI equipment specifically designed to capture images of your body and heart with exceptional quality. This equipment uses powerful magnets and radiofrequency waves to generate high-resolution images, allowing our specialists to detect and diagnose a wide range of conditions.
Your heart MRI study in Puerto Vallarta is performed in a safe environment. You will be attended by our trained staff of radiologists, cardiologists, and cardiovascular imaging specialists. Our professionals work hand in hand to interpret your results and provide you with an accurate and timely diagnosis.
CMQ Riviera Nayarit, an Outstanding Medical Center in Innovation and Technology
Since its inauguration in 2018, CMQ Riviera Nayarit has set the highest medical standards in innovation and technology. Currently, with our new Cardiac MRI study, we are the only hospital in the region that offers this service. Thanks to our multidisciplinary team of specialists in Radiology, Cardiology Echocardiography, and Cardiovascular Imaging, we are a leading center for this innovative study.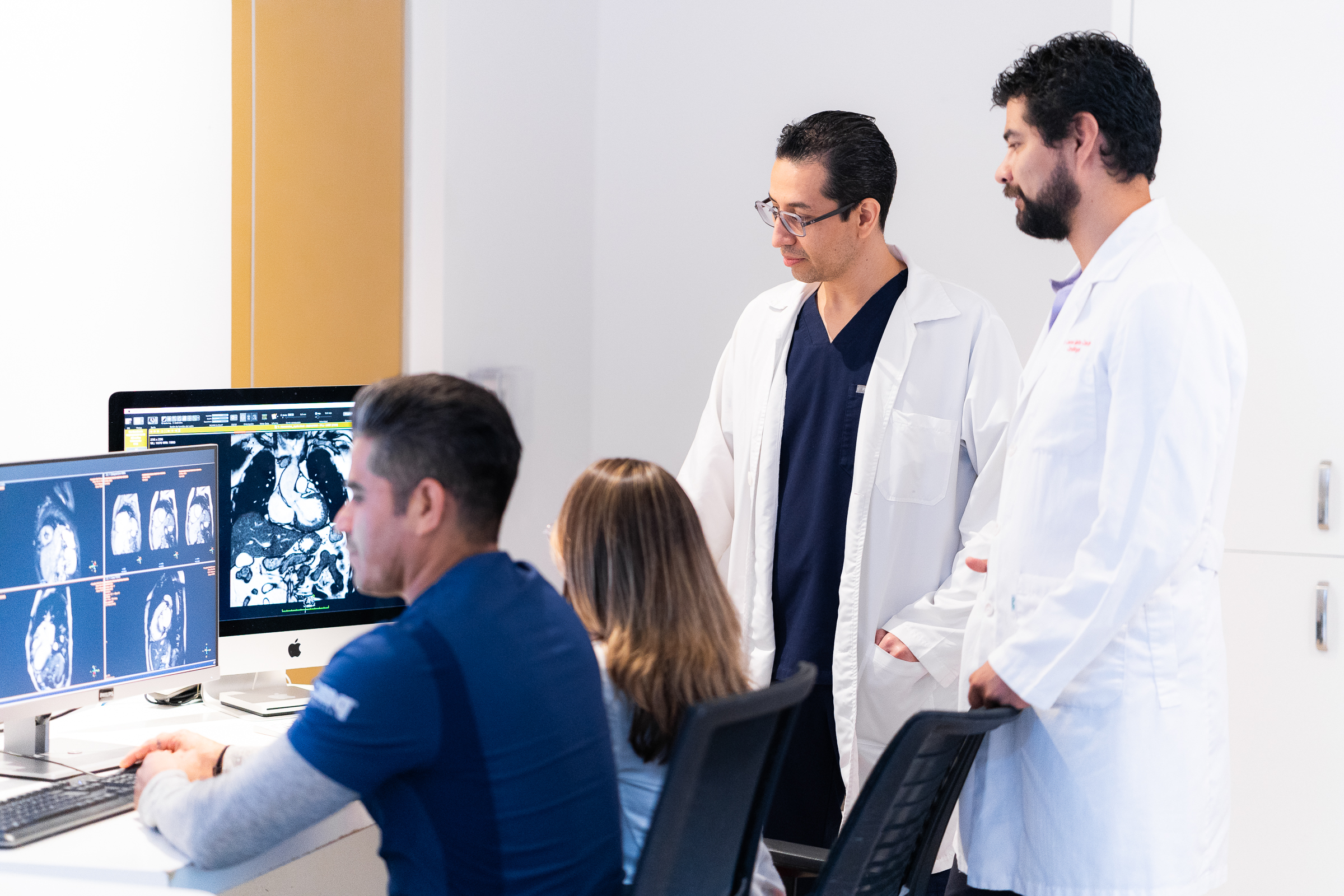 A heart or cardiac MRI is an advanced imaging technique that provides detailed and accurate images of the heart and its structures. Unlike other studies, such as an ultrasound or CAT scan, the MRI provides a three-dimensional view of the organ. This allows a comprehensive evaluation of its anatomy and function. In addition, a cardiac MRI study can detect structural problems and damaged tissue or areas in the heart. This is especially useful in the diagnosis of heart diseases such as coronary ischemia, which is the complete or partial blockage of the coronary artery.
What is a cardiac MRI with contrast material?
Cardiac MRI commonly uses a contrast material called gadolinium. Our experts use this material to enhance the visibility of cardiac tissues. Prior to the study, gadolinium is administered through an injection into a vein. Cardiac MRI with contrast material is especially useful for detecting artery disease, cardiac tumors, and congenital abnormalities of the heart.
It is important to note that gadolinium is a contrast method that rarely causes any adverse effects. However, if you have any concerns, it is important to discuss them with your physician.
What Diseases Can A Heart MRI Detect?
As mentioned earlier, an MRI scan provides high-quality images of the heart and blood vessels from multiple planes. This study is more accurate than other imaging tests, like CT scans. Also, a heart MRI study is used to evaluate or diagnose the following diseases:
Damage after a heart attack

Congenital abnormalities of the heart

Heart tumors or mass growth

Heart failure

Clogged or damaged arteries

Blood vessel tumors

Heart valve disorders

Inflammation of the myocardium (heart wall)
Cardiac MRI Interpretation
The interpretation of a cardiac MRI involves analyzing and understanding the images obtained during the study. This is done by our radiologists and cardiologists who specialize in cardiovascular imaging. The interpretation of your study is essential for accurate diagnosis and treatment planning. The report also provides details on:
Anatomy: a detailed evaluation of the structure of your heart.
Cardiac function: information on heart function and blood flow.
Cardiac perfusion: assesses the blood supply in your arteries.
Damage screening: detect the presence of damage to your heart tissue.
How Should I Prepare for my MRI Study?
Before an MRI study, you may eat and drink water normally, unless you are instructed otherwise. You will be asked to put on a hospital gown and remove all objects that may affect your scan's images. Objects such as jewelry, glasses, hearing aids, dentures, and hairpins, among others, must be removed before going into the MRI room.
Our Radiology staff will help you lie down on the MRI table. The table will slide into the MRI machine. If you suffer from claustrophobia, anxiety, or nervousness, you can communicate this to our technicians through the microphone that is included inside the MRI. We will always be aware of your needs and requirements to make your experience as favorable and comfortable as possible.
Meet Our Multidisciplinary Team of Experts in Cardiac Magnetic Resonance Imaging in Puerto Vallarta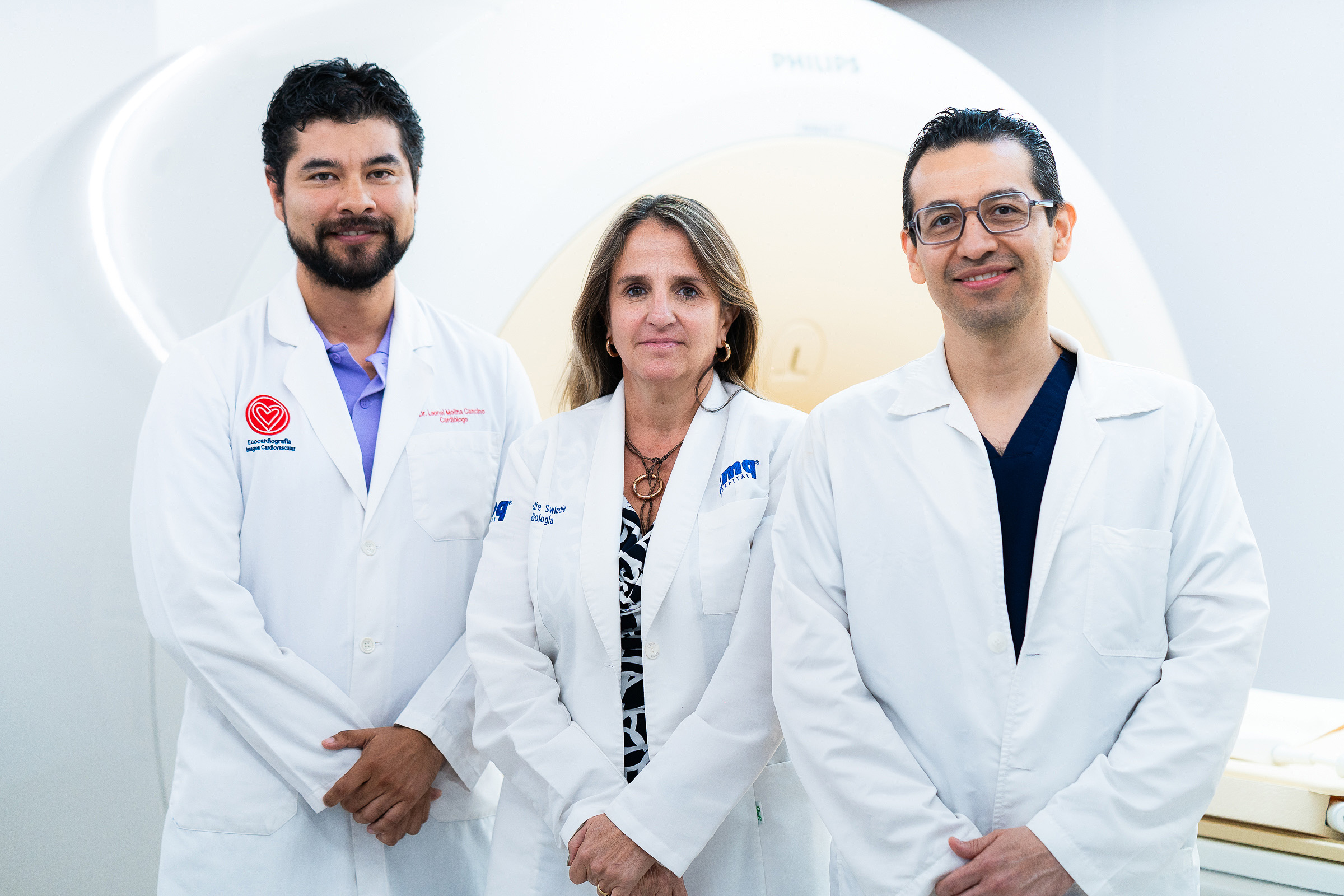 Frequently asked questions about Cardiac MRI in Puerto Vallarta
No, during a heart MRI, only the upper body, including the chest and abdomen, typically goes into the MRI machine. The purpose of a heart MRI is to specifically focus on imaging the heart and its surrounding structures.
The duration of a simple cardiac MRI test, without the use of contrast material, usually lasts between 60 and 90 minutes. Similarly, a heart MRI with contrast material has a minimum duration of 120 minutes.
A cardiac MRI provides detailed imaging of the heart and its structures, offering valuable information about its anatomy, function, and blood flow. Likewise,  it provides detailed information to aid in the diagnosis, treatment planning, and monitoring of various cardiovascular conditions.