Endoscopic Spine Surgery in Mexico, a Minimally Invasive Technique Available at Hospitals CMQ
An Innovative Surgical Technique Performed by Dr. Gustavo Navarro of Spine Clinic
Endoscopic spine surgery, a minimally invasive procedure, is now available inside our CMQ Hospital facilities in Mexico. This surgical technique, performed by our spine specialist Dr. Gustavo Navarro, of Spine Clinic,  substitutes traditional spine surgery. It also has numerous benefits for patients with spinal pathologies. In many cases, this innovative and advanced technique can become the solution to chronic spinal injuries that negatively affect the patients' quality of life.
Such is the case of Amy, a 40-year-old woman from Northern California. Unfortunately, back pain had prevented her from continuing her work activities since February of this year: "I work 24/7 at an aquaculture farm, we raise fish and crustaceans. My job requires me to be in good physical condition. However,  I suffered from intense back pain for months that prevented me from continuing with my job," says Amy.  "I decided to take a vacation in Puerto Vallarta, to rest a little from my work routine. Nonetheless, the pain continued to affect me. That was when, based on my relatives' recommendation, I went to see Dr. Gustavo Navarro."
What Does Endoscopic Spine Surgery Consist Of?
In the past, spine surgery was performed through multiple incisions in the skin using aggressive instruments. This resulted in a great loss of blood, very long surgical procedures, and very painful recoveries. Nowadays, minimally invasive spine surgeries are the most recommended by specialists. Their recovery time is faster, the scars are smaller, and the damage to tissues and muscles is minimal.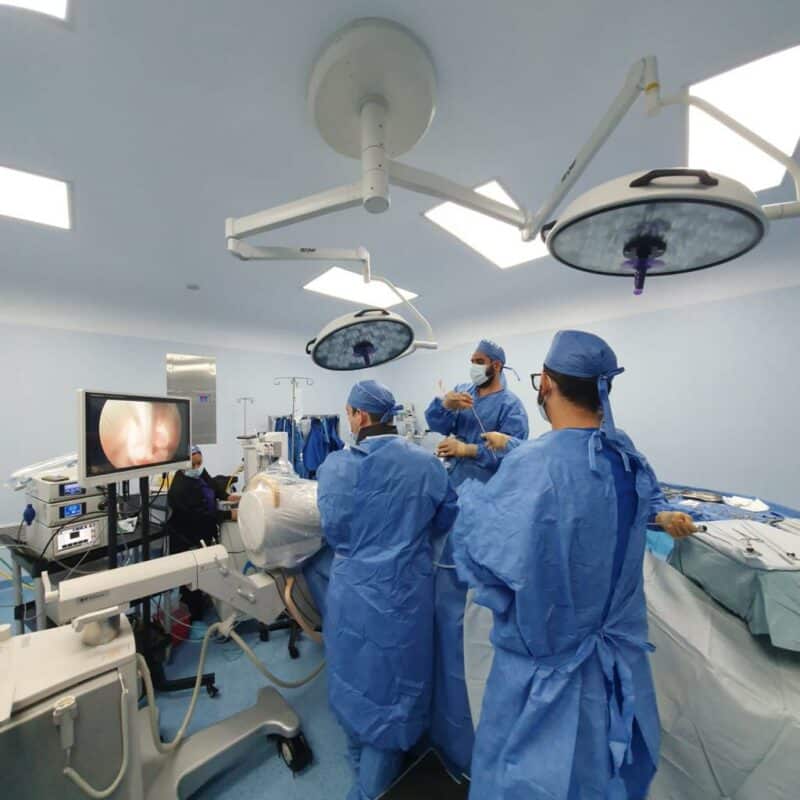 Endoscopic lumbar surgery, or endoscopic spine surgery, is a minimally invasive technique. Fortunately, this technique treats lumbar conditions in their entirety, like Amy's herniated disc. This spinal surgery is performed through a 5-millimeter incision in the spinal region. Subsequently, an exploration of the spinal canal begins using a high-definition endoscopic camera, so no large incisions are needed to access the patient's spine during the procedure.
Our specialist uses the latest technology in endoscopic spine surgery with the Richard Wolf VERTEBRIS dorsolumbar endoscope. This endoscopic system was designed for a wide spectrum of minimally invasive techniques in the lumbar spine area. It is ideal for herniated discs and spinal canal stenosis.
How Long Does An Endoscopic Spine Surgery Take, and How Is It Performed?
An endoscopic spine surgery in Mexico is a minimally invasive surgery in which a small incision is made in the patient's skin. This incision measures no more than 1 centimeter. Through the incision, the endoscope is introduced. This is a thin instrument with a high-resolution camera and light that is used to explore the spine. Once the joint has been explored, the herniated disc fragment is removed and the affected nerve is decompressed. This procedure usually takes about 90 minutes and the patient experiences a 50% improvement within 2 hours after the procedure is completed.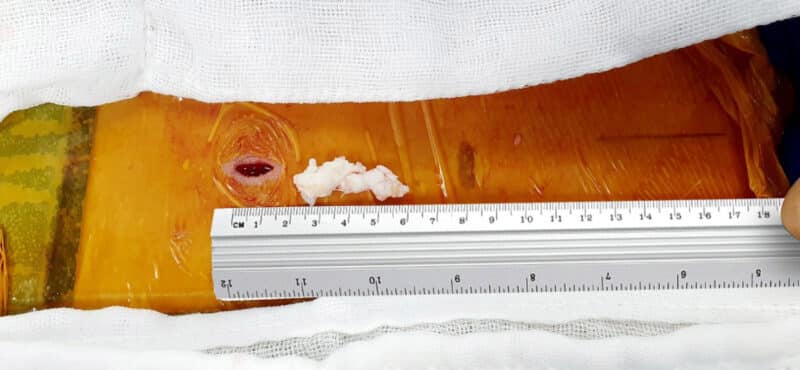 In Amy's case, she experienced significant improvement within a few hours after the endoscopic procedure: "It was a quick surgery, with no discomfort or intense pain. Dr. Gustavo explained every detail of the procedure to me. He and his entire team were very patient with me. When I left the operating room they were by my side asking how I was feeling and were very attentive during my stay."
What Pathologies Can Be Treated With This Technique?
There are many conditions that can be treated with this procedure, such as:
Lumbar herniated discs

Herniated cervical discs

Vertebral fractures

Tumors in the vertebrae

Damage to the cervical canal

Stenosis

Lumbago
Advantages and Disadvantages of Spinal Endoscopy
Studies have shown that endoscopic spine surgery has more advantages than disadvantages compared to conventional spine surgery.
Advantages of Minimally Invasive Spine Surgery
Disadvantages of minimally invasive spine surgery
Less aggressive than open spine surgery.
Less pain post-surgery.
Less blood loss.
Can be performed under local anesthesia.
Allows for a faster return to daily life and work.
It is a shorter hospital stay.
Lower risk of infections.
May cause nerve or vascular lesions.
Nerve decompression may be insufficient.
Hematomas.
Infections.
Re-herniation.
What Does Recovery After Endoscopic Spine Surgery Look Like?
Recovery after endoscopic spine surgery in Mexico is quick and painless. Since it is a minimally invasive surgical procedure, recovery is much faster than with conventional procedures. Additionally, the pain disappears in the first few hours after surgery. Therefore, patients can start walking the same day as the surgery, and they are discharged from the hospital within 24 hours.
The use of crutches or wheelchairs is not necessary. However, the use of a post-surgical belt is recommended. Perhaps the most important element is that daily activity can be resumed during the first week post-surgery. In less than a month, the patient should be able to carry out all activities as usual. 
"It has already been two weeks since my surgery and I can say that I am 80% recovered. I can walk without cane support, I can do stretches and exercises. I am ready to go back to California and start my life again," says Amy, whose recovery has been very favorable only two weeks after the endoscopic procedure. Amy is currently in California and our specialists expect a full recovery in a short time. However, Dr. Navarro's only indication for Amy is the daily use of a post-surgical belt, and to avoid carrying too much weight to not compromise her spine in the future.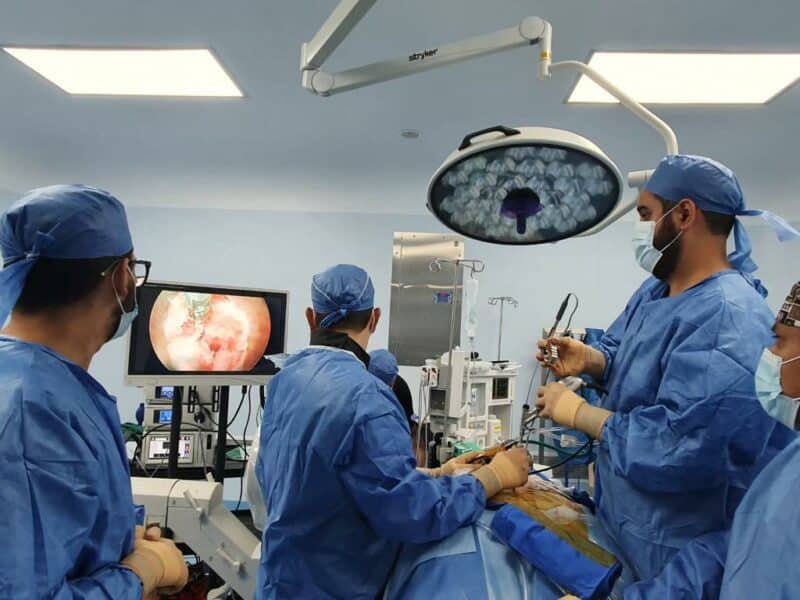 Say goodbye to spinal pain, see our specialist Dr. Gustavo Navarro
Spine Clinic, the best Spine Surgery techniques in Puerto Vallarta
Dr. Gustavo Navarro's Spine Clinic is the first spine clinic in Puerto Vallarta and the Banderas Bay that is dedicated to the integral treatment of spine problems. Our specialist Dr. Gustavo Navarro is a spine surgeon, an AOSpine alumnus, and has extensive professional experience in minimally invasive techniques.
Our Spine Clinic physicians specialize in non-surgical treatments, minimally invasive treatments, and advanced spine surgeries. In addition, we have therapists who focus on the treatment of various spinal conditions. 
The advantage of coming to us is that we will treat the patient in a comprehensive manner. We can help patients who are afraid of surgeries to find other options. From physical therapy to surgery, we employ novel techniques that are found in very few places in Mexico, including large urban areas such as Mexico City, Guadalajara and Monterrey.
Dr. Gustavo Navarro, Spine Clinic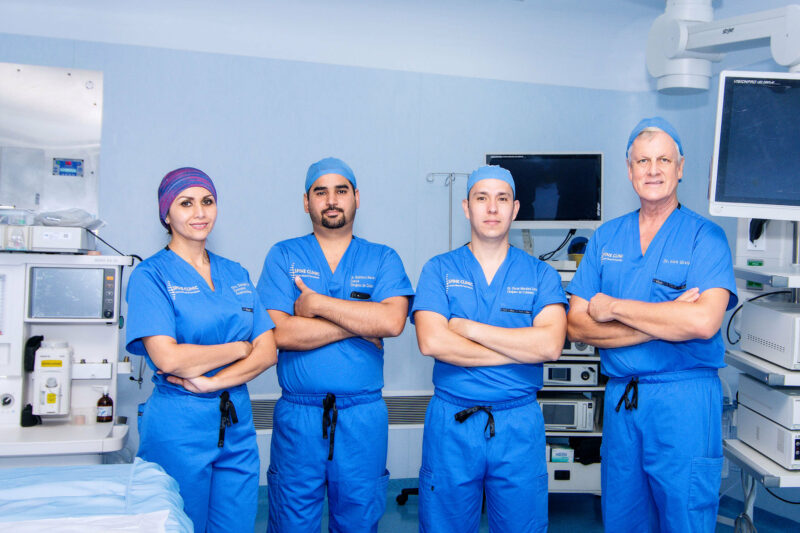 Back Pain: First Symptoms Recommendations
ur Spine Clinic specialists recommend the following when you experience back pain:
See your doctor. If you have severe back pain or pain that does not go away, it is important that you go to a spine specialist to rule out that the pain is not caused by an injury.

Weight control. 

Physical exercise. Our specialists recommend stretching exercises, such as yoga, swimming or pilates.

Have an active life. In general, back pain is more frequent in people with a sedentary lifestyle.