Children Ages 5 to 11 Can Now Get The Covid Vaccine In Mexico
What You Should Know About This New Phase Of Vaccines for Minors
Children can now get vaccinated against COVID-19 in Mexico. This new vaccination stage will focus on all minors between five and eleven years of age. Last March, the Federal Commission for Protection against Health Risks (COFEPRIS) approved the emergency use of Pfizer's COVID-19 vaccine for children in this age group. Likewise, according to the Undersecretary of Health, Hugo Lopez-Gatell, it is estimated that more than 3 million children will receive the vaccine against the Coronavirus. The Pfizer/BioNTech vaccine will be administered during the last week of June and the first week of July of this year.
A partir del lunes 27 de junio iniciaremos la vacunación contra #COVID19 a niñas y niños de 5 a 11 años de edad. Esta fase durará, aproximadamente, tres meses.

Recomendamos a quienes tienen COVID que esperen 15 días antes de aplicarse la vacuna.

— Hugo López-Gatell Ramírez (@HLGatell) June 23, 2022
It is important to note that this vaccine's dose will be lower than the adult dose. However, the vaccination schedule is the same, i.e. two doses separated by a period of four to eight weeks. Likewise, experts are evaluating the possibility of a booster dose for this demographic. According to the agreement between the Mexican Government and the pharmaceutical company Pfizer, about 2 million doses will initially arrive in the country. However, with this quantity, it is impossible to vaccinate all children of age in a single stage. Especially since there are more than 15 million girls and boys in the country. Therefore, vaccination will be carried out in stages, as more doses arrive.
How Can I Register My Child for the Covid-19 Vaccine?
You can register your child by accessing mivacuna.salud.gob.mx. Once on the site, you must enter your children's age and the Unique Population Registry Code (CURP). Then, click on the option I am not a robot and fill in the requested information. In addition to the CURP, you must enter the state where your child resides, the zip code, municipality, contact telephone numbers and e-mail address. After reviewing the data in detail and confirming the information, the site will give you a "folio" (report number) and the vaccination confirmation record. It is very important that you keep this information.
How to Download the Registration Confirmation for the COVID Vaccine for Children
After filling in the data boxes and submitting the child's information, a confirmation message and a registration number (folio) will be displayed. You must click on the "Comprobante" option to generate a downloadable PDF document. This document must be printed, as you must hand it in on the day of vaccination. This file contains the child's data and CURP, as well as blank fields that must be filled in by hand on the day of the application.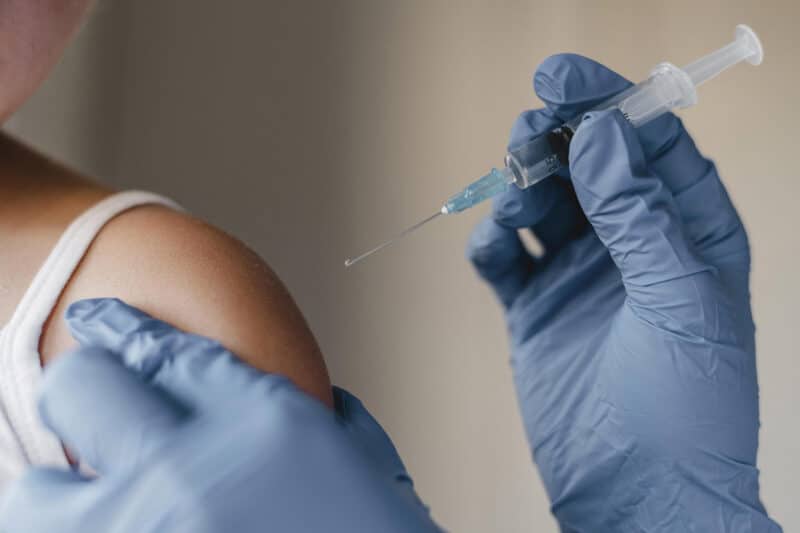 What Vaccine Brand Will Be Used to Vaccinate Children between 5 and 11 Years of Age in Mexico?
According to López Gatell, the vaccine brand that will be applied in Mexico to children between five and eleven years of age will be Pfizer/BioNTech. However, it will be a lower dose than the one applied to other age groups. The Centers for Disease Control and Prevention (CDC) states that a pediatric dose should be administered. This is equivalent to one third of a normal dose of the Pfizer vaccine. In addition, smaller needles are used to administer the vaccine to children in this age group.
Children's COVID-19 Vaccine Dates
The Undersecretary of Health, Hugo López-Gatell, explained that the vaccine will not be applied throughout the country at once, but will become available by states and municipalities. The municipalities and vaccination sites have not been announced yet, but Lopez-Gatell informed that it will be carried out in conventional health facilities and temporary units, such as big venues and other special units. 
Meanwhile, some of the Mexican states that have already started applying the COVID vaccine for children are:
Baja California

Campeche

Chiapas

Ciudad de México

Guanajuato

Hidalgo

Michoacán

Morelos

Nayarit
Puebla

Quintana Roo

Sinaloa

Sonora

Tabasco

Tlaxcala

Veracruz

Yucatán
For more information about the COVID vaccine for children in your state or municipality, we recommend you stay up to date with the social media accounts of your local or state Government/Department of Health.
Is The Covid Vaccine Safe For Children?
So far, the World Health Organization, the highest international health authority, indicates that there is increasing evidence that vaccinating children under 12 years of age is safe and advisable. At the moment, the WHO only recommends the Pfizer vaccine for children between 5 and 11 years of age. However, experts continue to study the possibility of applying other brands' vaccines to this demographic.
Similarly, the Food and Drug Administration (FDA) reports that the COVID-19 vaccine given to this age group is approximately 91% effective in preventing COVID-19.
The Covid Vaccine for Children In Other Countries Has Been Applied and Proven To Be Safe
Countries such as: Cuba, Israel, Spain, France, Denmark, and Germany began vaccinating girls and boys aged 5-11 years by the end of 2021. Similarly, the United States has vaccinated approximately 9 million minors. Moreover, according to the Centers for Disease Control and Prevention, this number indicates how many children are fully vaccinated. In the United States, to be considered "fully vaccinated," the child needs to receive two pediatric doses. Therefore, after the first vaccine, it is necessary to wait three weeks to receive the second dose.
In addition, the CDC recommends that children over 5 years of age with a weakened immune system or underlying diseases receive an additional dose. This dose should be administered at least four weeks after the second dose. 
La @WHO señala que la aplicación de la segunda dosis de la vacuna Pfizer en personas de 5 a 17 años debe realizarse en un intervalo de 4 a 8 semanas y que un intervalo más largo entre dosis se asocia con mayor efectividad. En el Gobierno de México atendemos estas recomendaciones.

— Hugo López-Gatell Ramírez (@HLGatell) June 28, 2022
Possible Side Effects of The COVID Vaccine for Children
According to Mayo Clinic, children aged five to eleven years who received the Coronavirus vaccine had side effects similar to those experienced by adolescents aged 16 to 18 years. 
However, the CDC notes that side effects in minors are moderate and brief, including the following:
Soreness, redness and swelling at the site where the vaccine was administered

Fatigue and muscle soreness

Headaches

Chills

Fever

Joint pain

Nausea and vomiting

General discomfort
Like adults, children may experience some side effects within two days after vaccination. These symptoms usually last between one and three days. However, if your little one does not show signs of recovery 48 hours after the vaccine is given, we recommend that you take him/her to the doctor immediately.
Recommendations for Your Child's COVID Vaccine
Our experts at Hospital CMQ provide you with the following recommendations to make your child's COVID vaccine experience a good one:
Minors must be accompanied by an adult and have their vaccination record printed out.

It is not recommended to give your child any type of analgesic before the vaccine. This medicine can be given after your child receives the vaccine.

If your child has a fever or

symptoms of Covid-19

, he/she will not be able to receive the vaccine.

It is not necessary for your child to fast to receive the vaccine; food and drink are allowed.
If you have additional questions regarding the COVID-19 vaccine for children, our pediatricians at CMQ Hospitals can help you. Send us an email to info@hospitalcmq.com and we will provide you with the support you need.