Caffeine Overdose: How Much is too Much?
Have you ever wondered: What is Caffeine?
Caffeine is a stimulant found in various foods, beverages, and products. It is commonly used to obtain energy and maintain a state of alertness and lucidity. Some of the most popular drinks in the world, such as coffee, tea, and soft drinks contain significant amounts of caffeine. However, caffeine is technically a drug. Therefore, according to the Mayo Clinic, the recommended amount of caffeine for adults is 400 milligrams per day. Thus, a caffeine overdose occurs when you ingest more than the recommended amounts.
Can you drink too much Caffeine?
The bad news is, you definitely can! Actually, most people drink too much. In this case, to avoid drinking too much caffeine, young people should not consume more than 100 mg of caffeine per day. On the other hand, Pregnant women can still drink their cup of coffee or tea in the mornings, but this should not exceed 200 mg of caffeine. This is because the side effects of caffeine on babies are not yet fully understood. However, the definition of a "healthy intake of caffeine" will be different for everybody. To determine what a healthy intake is, we should take into account the age, weight, and general health of someone in order to determine the exact milligrams to consume.
So, how long does it take to process caffeine?
Did you know that caffeine stays in your blood from 1.5 hours to 9.5 hours? Accordingly, this means that it can take from 1.5 hours to 9.5 hours for caffeine levels in your blood to fall to half its original amount. Due to this wide time range, its difficult to know the exact amount of caffeine that can cause an overdose.
What Are the Most Common Sources of Caffeine?
Here's a Caffeine Content Chart with useful information!
| DRINKS / FOODS | VOLUME/PORTION | AMOUNT OF CAFFEINE |
| --- | --- | --- |
| Filtered Coffee | 125 ml | 85 mg |
| Energy drinks | 330 ml | 80 mg |
| Soluble instant coffee | 125 ml | 65 mg |
| Espresso | 30 ml | 60 mg |
| Dark chocolate | 30 grams | 60 mg |
| Sugar-free caffeinated soft drinks | 330 ml | 41 mg |
| Caffeinated soft drinks | 330 ml | 39 mg |
| Tea (leaves or bag) | 150 ml | 32 mg |
| Chocolate bar | 30 grams | 20 mg |
| Iced tea | 330 ml | 20 mg |
| Milk chocolate | 30 grams | 6 mg |
| Hot chocolate | 150 ml | 4 mg |
| Decaffeinated coffee | 125 ml | 3 mg |
Other products that contain caffeine are:
Sweets

Medications and supplements

Food or energy drinks

Some chewing gums
Causes and Risks of a Caffeine Overdose
A caffeine overdose happens when you consume high levels of this substance through drinks, food, or medications. However, some people may ingest more than the recommended amounts and not show any symptoms or discomfort. Nevertheless, this is not advisable, since high doses of caffeine can cause serious health problems, such as:
irregular heart rhythms

seizures

and even a hormonal imbalance
For example, if you rarely consume caffeine, your body can be especially sensitive. In this case, you should avoid consuming too much caffeine. Nevertheless, even if you regularly consume high amounts, we recommend stopping when you have symptoms or discomforts.
What are the Symptoms of a Caffeine Overdose?
There are certain types of discomfort that occur when you are suffering from a caffeine overdose. Unfortunately, however, sometimes our body does not produce warning signals until it is too late. For example, you can experience:
Dizziness

Diarrhea

Insomnia

Headaches

Fever

Thirst
Other, more severe symptoms include:
Trouble breathing

Vomiting

Hallucinations

Disorientation

Chest pain

Irregular heart rhythms

Involuntary muscle movements

Seizures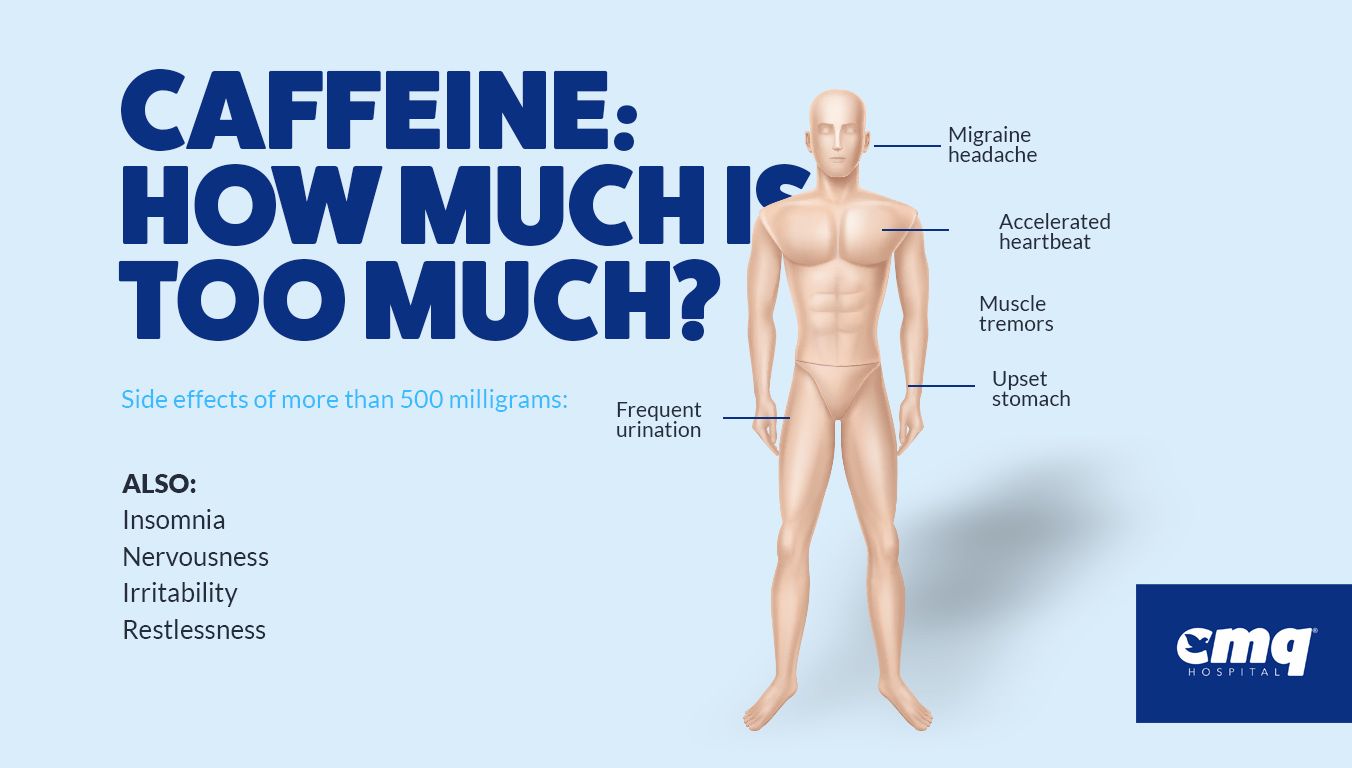 Did you know babies can also suffer a caffeine overdose?
Indeed, babies can also suffer from a caffeine overdose. For instance, when the mother consumes more than the recommended dose, the breast milk that the infant drinks will contain caffeine. If this is the case, the mother or baby may experience nausea and tension in the muscles. Furthermore, there are certain signs that can accompany these symptoms, including: vomiting, accelerated breathing, and shock. Consequently, if you, or your baby, feel any of the above, seek help from your doctor immediately.
As mentioned above, most of our favorite drinks may contain caffeine, a common stimulant used in food or drinks. However, drinking beverages or eating food that contains caffeine is not necessarily bad, if the normal daily dose is not surpassed. Nevertheless, drinking or eating too much caffeine can cause a caffeine overdose. This, in turn, will cause uncomfortable symptoms and in some cases health risks and worsen pre-existing conditions, such as anxiety.
A caffeine overdose can usually be treated without creating long-term health problems. Therefore, keep this in mind, maintain a healthy diet and seek help from your doctor if you feel any of the severe symptoms of a caffeine overdose. Most importantly, remember that when treatment is given too late, there may be irreversible health problems and even death.