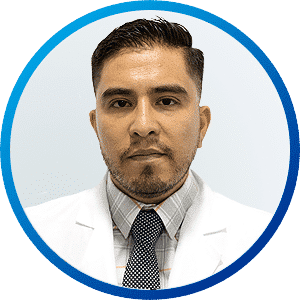 Luis Chacón, MD. Gynecology and Obstetrics
Hospital CMQ Health Provider
---
Languages:
English, Spanish
About | Luis Chacón, MD. Gynecology and Obstetrics
Tending to women's health is unique and requires special care. Dr. Luis Chacon is a specialist in Obstetrics and Gynecology who graduated from the Ecatepec ISSEMYM Medical Center. He is characterized for his empathy and cordiality with his patients. He maintains an utmost respect and effectiveness when carrying out diagnoses and timely treatments.
Dr. Luis Chacon, MD. has more than a decade of experience providing timely diagnosis and treatment to his patients with the highest hospital quality. He graduated from the National Polytechnic Institute IPN in Mexico City. Subsequently, he completed his specialty in Gynecology and Obstetrics at the Ecatepec Medical Center endorsed by the ISSEMYM. In addition, Dr. Chacon is certified by the Mexican Council of Gynecology and Obstetrics CMGO.
Likewise, Dr. Luis Chacon, MD. recognizes that women's health care is unique and requires special treatment. For this reason, he has experienced in the Comprehensive Diagnosis of Pathologies of the Female Genital Tract. Moreover, he completed training in Obstetric Ultrasound with a Perinatal approach for the timely detection of fetal malformations and/or genetic diseases that babies can develop during the gestation period.
Among the most common procedures that Dr. Luis Chacon treats are:
Pregnancy control
Cesarean sections and deliveries
4D ultrasound
Colposcopy
Pap smear tests
Uterine Fibroids
On the other hand, Dr. Luis Chacon is characterized by professing with empathy and cordiality during his consultations. Also, he maintains extreme respect and efficiency in conducting timely diagnoses and treatments in his area of expertise. For an appointment with Dr. Luis Chacon you can call our Physicians Building at Hospital CMQ Riviera Nayarit from Monday to Friday from 02:00 pm to 06:30 pm. Likewise, if you require an appointment in the morning, his office hours are from 09:00 am to 10:00 am only by a previous appointment.
Locations | Luis Chacón, MD. Gynecology and Obstetrics
Our Locations
Hospital CMQ Riviera Nayarit is located in Bucerias, Bahia de Banderas; just minutes away from Nuevo Vallarta, Punta Mita, La Cruz de Huanacaxtle, Sayulita and San Pancho.
CT Scan Studies, Urgent care center open 24/7, and Walk-in clinic.
Av. Héroes de Nacazori 280 Bucerias, 63732 Riviera Nayarit, Nay.
Make your appointment!
Most common procedures | Luis Chacón, MD. Gynecology and Obstetrics
Pelvic Ultrasound
A noninvasive diagnostic exam that gives a quick visualization of the female pelvic organs and structures, including the uterus, cervix, vagina, fallopian tubes and ovaries.
Lower Genital Tract Pathology
Cesareans and Deliveries
The best care and medical excellence in the first-class facilities of Hospital Riviera Nayarit. Safety and comfort for you and your baby before, during, and after your delivery or cesarean section.
Uterine Fibroids
Detection and treatment of uterine fibroids. Those benign growths on the muscular wall of the uterus. They are non-cancerous tumors that cause irregular vaginal bleeding and pelvic pain.
Obstetric Perinatal Ultrasound
The health of your baby in the best hands. A perinatal obstetric ultrasound is a clinical exam helpful for diagnosing congenital abnormalities of the fetus and evaluating the general well-being of your baby.
Colposcopy
A simple procedure that allows your doctor to examine your cervix. Is used to find cancerous cells or abnormal cells that can become cancerous in the cervix, vagina, or vulva.
Costs | Luis Chacón, MD. Gynecology and Obstetrics
| | Includes | Cost |
| --- | --- | --- |
| First appointment | Your first gynecologist visit with Dr. Luis Chacon, MD. will be like any other doctor's visit. He will ask you about your general health, your menstrual cycle, and sexual health. Moreover, he will make a general physical exam, where your height, weight, and blood pressure will be checked. Similarly, an external genital exam. You usually do not need to have a pelvic exam at the first visit unless you are having abnormal bleeding or pain. | $600 Mexican pesos |
| HPV Detection Package | The HPV early detection package includes a general consultation, colposcopy, and a pap smear test. It is indicated mainly in the presence of abnormal bleeding, post-coital bleeding, and as a control of lesions in pregnant women. Dr. Chacon recommends that in preparation for this study you should have a completely empty bladder. Therefore, you should not douche, or have had sexual intercourse in the last 24 hours before the exam. | $850 Mexican pesos |
| Full Check-Up Package | This package includes a consultation with Dr. Luis Chacon, a colposcopy and Papanicolaou study, and a pelvic ultrasound. This study is used to evaluate your urinary and reproductive systems. It is totally safe and does not require prior preparation. | $900 Mexican pesos |
| Pap Smear Package | A Pap Smear test can find early signs of cervical cancer. It is a procedure used to collect cells from the cervix. Papanicolaou is highly effective for the detection of cervical cancer and precancer.  Dr. Luis Chacon recommends that all sexually active women ages 18 to 70 get tested every two years. | $750 Mexican pesos |
Professional and Specialty Studies | Luis Chacón, MD. Gynecology and Obstetrics
Certifications | Luis Chacón, MD. Gynecology and Obstetrics
Course,  Pathology of the Female Urogenital Tract Integral Diagnosis, Comprehensive Health Center for Women, Zapopan, Jalisco, 2017.
Training, Obstetric Ultrasound Training with a perinatal approach, Comprehensive Health Center for Women, 2018.
Course, Obstetric Ultrasound with Perinatal Focus, Timely detection of fetal malformations, and/or genetic diseases.