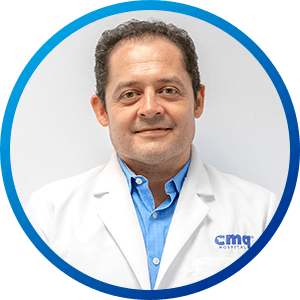 Javier Diaz, MD. Otolaryngologist
Hospital CMQ Health Provider
---
Languages:
English, Spanish
About | Javier Diaz, MD. Otolaryngologist
Javier Diaz, MD. has positioned himself as the best Otolaryngologist in Puerto Vallarta. He is characterized by medical excellence for his constant commitment to the health of his patients. His performance is based on treatments of the highest quality.
With over a decade of experience in professional practice in the field of Otolaryngology, Dr. Javier Diaz utilizes advanced equipment and world-wide recognized techniques to ensure safe, hygienic, and minimally invasive procedures.
Locations | Javier Diaz, MD. Otolaryngologist
Our Locations
Professional and Specialty Studies | Javier Diaz, MD. Otolaryngologist
Surgeon and Obstetrician Degree, Autonomous University of Guadalajara, 1994-1998.
Undergraduate Internship at the Secretariat of Health Hospital Regional, Leon, Guanajuato 1998-1999.
Social Service in the Ministry of Health, Pajacuaran Health Center, Michoacan 1999-2000.
Postgraduate Residence Specialty Otorhinolaryngology at I.M.SA.S. National Medical Center of the West, Endorsed by the C.U.C.S University of Guadalajara. 2001-2005.
Certifications | Javier Diaz, MD. Otolaryngologist
Approval and Certification of the Examination of the Mexican Board of Otolaryngology.
A course of Surgical Anatomy of the Corpse's Neck and Face in "Dr. Juan Felipe Sanchez Marle".
International Theoretical-Practical Course of Facial Surgery and Endoscopy in Otolaryngology.
Monographic Course "Pediatric Otorhinolaryngology"
The rotation at the "Visiting Physicians Program" House Ear Institute in Los Angeles, California.
Assistance to the National Congress of the Mexican Federation of Otorhinolaryngology-Head and Neck Surgery.