295 scholarships for Mexican students of CUCosta were provided, for those in need of financial aid
Low income students at CUCosta who were affected by the economic crisis were in danger of dropping out of their undergraduate studies
More than 295 scholarships for Mexican students in need of financial aid were provided by our hospitals and the Board of Directors of the UDG.
The negative impact of the COVID-19 pandemic has been felt in Puerto Vallarta not only in the medical field. Colleges and universities alike, as well as their students, have been suffering the blows of this health and economic crisis. In particular, low-income students at CUCosta, the campus in Puerto Vallarta of the University of Guadalajara (UDG), have been severely affected by the lack of economic resources and high unemployment rates. Consequently, due to this situation, hundreds of students reached out to their school's board. They would ask for help with such basic needs such as food for their daily meals. Accordingly, CUCosta´s Board of Directors realized that this request to fulfill such basic needs could only mean one thing: that these students would not be able to continue in school because they would be unable to pay for their tuition.   
Due to this conundrum, CUCosta's Chancellor Dr. Jorge Tellez Lopez and Dr. Jorge Villanueva, CEO of CMQ Hospitals and President of CUCosta's Foundation, called for an urgent meeting. Talking and working together, they searched for a solution and came up with a viable strategy. Therefore, they set to work, creating a strategy to raise the needed funds to provide scholarships for Mexican students.
CUCosta's Foundation and Chancellor open scholarship application process for low income students
While raising the needed funds, CUCosta's Foundation and its Chancellor announced the opening period for this emerging scholarship for low income students.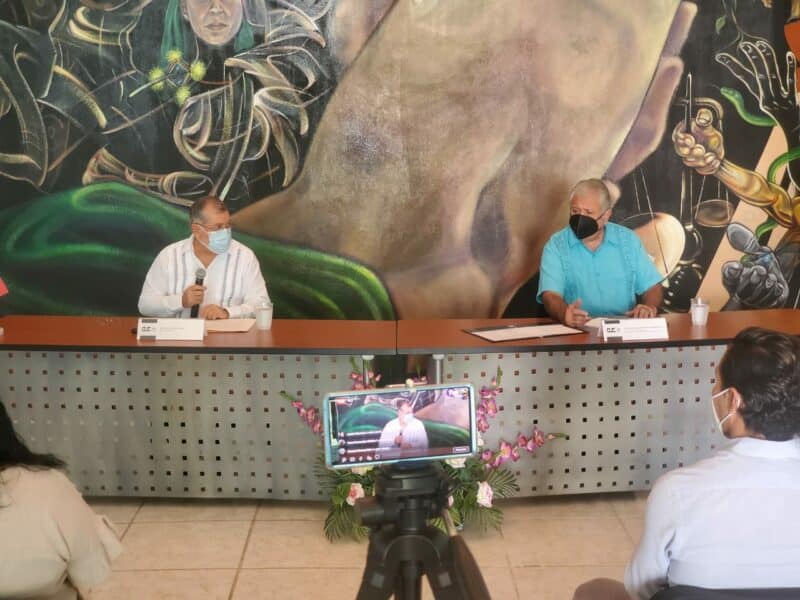 "We could feel the students´ anguish and pain when they came to the Centro Universitario de la Costa to ask for basic groceries and food to eat. Therefore, Chancellor Jorge Tellez and I talked about this pressing issue. We were worried that all of these students would have to drop out of school. Thus, we started brainstorming on what we could do to prevent this from happening".
Dr. Jorge Villanueva, President of CUCosta's foundation
In addition to this pressing concern, Chancellor Tellez knew that there was another problem that would arise if these 300 students did not pay their entrance fee. Unfortunately, in the past decade, the university's normal operating was not enough to cover the expenses of important student programs. Thus, the only viable way to finance these programs had been through the collection of entrance student fees. Therefore, if the students dropped out of school and did not pay their entrance fee, several of the following student programs would have to be canceled:
CUCosta student credentialing

Intelligent classroom program

Smart classroom climatization

Bio-Cultural Park

Wildlife conservation fund
"Both for the sake of our university and our students. We have to support and provide financial aid to low-income students. We have to achieve our goal: that no student will drop out of school due to lack of financial resources; that every student is able to finish its undergraduate studies regardless of its income level". 
Dr. Jorge Téllez López
If you are a low income student and have not received grocery support and/or financial aid, please call the following telephone number: 33 3540 3003.
The people of Vallarta and CUCosta's Chancellor and its teachers join forces to provide scholarships for Mexican students in financial need
As a result of this new scholarship program and its newly opened application period, the university received 295 applications. In addition, it's worth noting that these applications didn't only come from undergraduate students in financial distress, but also from masters and Ph.D. students. In total, there were 275 undergraduate applications, 17 masters' applications, and 3 Ph.D. applications. Therefore, witnessing the need from these students and their families, CUCostas teachers proposed a viable solution. For every three pesos donated by Vallarta's community, the university's teachers would donate one more peso in what is known as a three to one donation program. Consequently, with this joint effort, CUCosta's Foundation was able to raise $400,000.00 pesos from Hospital CMQ and Vallarta's community. In addition, to meet their goal, CUCostas teachers donated $215,475.00 pesos. 
Memories of a unique opportunity; studying medicine at the University of Guadalajara
With the economic crisis related to the Covid-19 pandemic, Dr. Jorge Villanueva remembered the harsh times that he lived during childhood. In particular, he remembered the great effort that his parents made. Moving from Puerto Vallarta to Guadalajara, so he could study medicine. Accordingly, these thoughts served as a motivation to help low-income students. These students, who were about to drop out of school due to financial hardship. 
"Without the opportunity of receiving a free education at the University of Guadalajara, I wouldn't have been able to study medicine, nor my specialty in General Surgery. As I look back, I see the sacrifice that my parents made. Moving to Guadalajara to basically start over, without having a job or any financial support. My family made this effort, so I could study medicine at the University of Guadalajara. From there, I continued with my specialty studies in General Surgery. Therefore, how could I refrain from helping these low income kids, who wanted to have an opportunity to finish their undergrad studies?"
Dr. Jorge Villanueva, President of CUCosta's foundation 
In turn, Dr. Jorge Tellez was grateful for these donations and financial support. Most importantly, Dr. Tellez emphasized the importance of having an alliance and working together with Vallarta's community and CUCosta's Foundation. Thanks to this effort, 295 students will be able to continue with their studies!
UDG Foundation will join forces to donate the missing funds
Finally, thanks to the donations of Hospital CMQ, CUCosta's foundation, Vallarta's community, and this university's teachers, 84% of the funds are now safe. Noticing this remarkable undertaking, Mtro. Cesar Aviles Gonzalez, Director of UDG Foundation, was both surprised and thankful, and made the following pledge:
"On behalf of UDG Foundation and our university, I would like to thank all of you for your valuable help and important effort. In addition, the UDG foundation will work to donate the remaining 16% of funds to fulfill these 295 scholarships for Mexican students in financial need".