The new strain of coronavirus has reached Mexico
Mexico has announced that the new strain of coronavirus has reached this country
The new strain of coronavirus that has been detected in several countries around the world has now reached Mexico. Unfortunately, the man who was infected and carried the new strain of Covid-19 departed from Amsterdam and arrived to Mexico on December 28th of 2020. Subsequently, after arriving to Mexico City, the individual traveled to Matamoros, Tamaulipas. Once he arrived to his final destination, he was tested for coronavirus by his employer, and his result turned out positive. Hence, the patient's positive result was sent to the "Instituto de Diagnostico y Referencia Epidemiologicos" (InDRE) for its review. The InDRE is the most advanced laboratory in Mexico, and is in charge of monitoring the spread of infectious diseases such as Covid-19. Accordingly, scientists at the InDRE analyzed the patient´s lab sample and confirmed that it was indeed the same strain that was initially detected in the United Kingdom. This new strain of coronavirus is known as Covid B117.
Tamaulipas health authority confirms the first case of Covid B117 in this Mexican state
Once the case was confirmed by Mexico´s InDRE, Tamaulipas health department made an official statement. "The test result for the new strain of coronavirus was positive. This is a variant of Covid-19 that first appeared in the United Kingdom and has now become the dominant strain in this country". This statement was made by the Director of Tamaulipas´ health department, Gloria Molina Gamboa. In Addition, Mrs. Molina stated that all passengers that had traveled in the same aircraft as the infected patient had been tested and monitored. Fortunately, however, the tests for all the individuals that were screened came out negative. Subsequently, Mexico´s chief epidemiologist, Jose Luis Alomia, informed that the individual that arrived to Mexico without symptoms, but with a Covid B117 infection. Nevertheless, this person quickly became critically ill and is now intubated. He is currently receiving treatment in the intensive care unit of a private hospital in Tamaulipas.
How did the new strain of coronavirus arrive to Mexico? This was its timeline
A passenger who is 56 years old arrived to Mexico City from Amsterdam.
The passenger travel from Mexico City to Matamoros, Tamaulipas.
Subsequently, when he arrived to work, he was tested for Covid-19 by his employer.
On December 31st of 2020, a second test is taken and the sample is sent to Mexico´s InDRE for its proper analysis.
The person infected with Covid B117 becomes critically ill. He is admitted to a private hospital in Matamoros due to very low levels of oxygen saturation.
The man was intubated in a private hospital in Tamaulipas.
InDRE confirms that, through this patient, the new strain of coronavirus has arrived to Mexico. This new strain originally appeared in the United Kingdom.
Gloria de Jesus Molina, Director of Tamaulipas Health Department, confirmed that a second case of the new strain of coronavirus could be confirmed in the following days.
As of January 2021, Mexico has surpassed the mark of 1.5 million cases of Covid-19. In addition, this country has reached more than 140,000 coronavirus deaths. Furthermore, its most affected municipality is Mexico City, an area in which its hospitals have been overwhelmed and are near full capacity.
The new strain of coronavirus originated in England and is 70% more contagious
On September of 2020, a new strain of coronavirus seemed to start spreading slowly around England. Nevertheless, the new Covid-19 strain, which was named Covid B117, quickly became the dominant strain affecting the United Kingdom. Thus, once winter arrived in December, 62% of all coronavirus cases in England were caused by this new strain.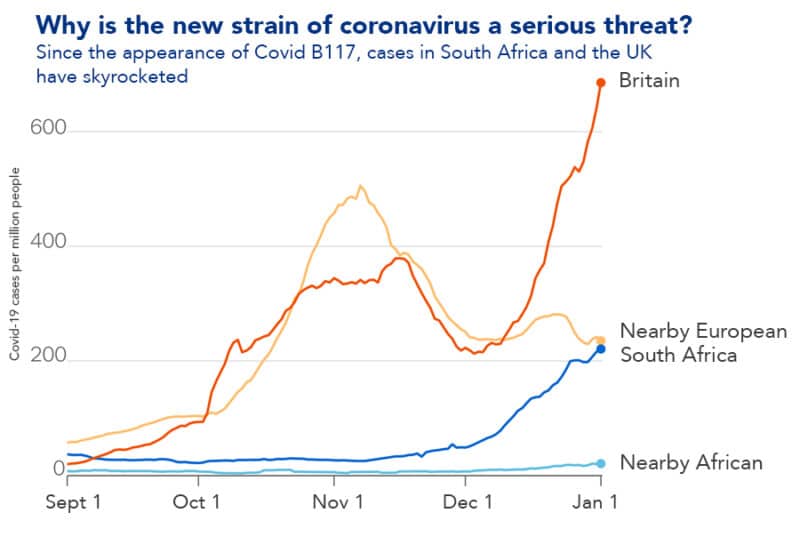 The new Covid strain is highly contagious and generates a high viral load
One of the main concerns of the World Health Organization is that the new strain of coronavirus is 40% to 70% more contagious than the original one. Unfortunately, this means that the new Covid "super strain" could spread a lot quicker around the world. Moreover, the accelerated spread of the virus would mean that many more people would be infected. Therefore, if this happens, hospitals that are already strained and almost at capacity could be overwhelmed. According to a study from Birmingham University, the new Covid B117 is far more contagious because it replicates and generates a high viral load in nose and mouth. Consequently, Birmingham´s scientists confirmed that people infected with the new Covid strain had indeed higher viral loads than patients who were infected with the normal strain.
What are the symptoms of the new Covid "super strain"?
For now, the new Covid strain has to be further studied to determine if its symptoms are indeed different than those caused by the normal strain. Consequently, the Centers for Disease Control and Prevention (CDC) are closely monitoring this new viral strain. For now, we know that the people that have been infected with Covid B117 can have moderate to severe symptoms. Specifically, the following symptoms tend to appear between the second and the fourteenth day from the day of first contact with the virus:
Fever or chills

Cough

Shortness of breath / breathing difficulty

Fatigue
Muscle and/or body pain and aches

Headaches

Loss of smell / loss of taste

Sore throat
Nasal congestion

Nausea and/or vomit

Diarrhea
How is the new Covid B117 strain different from the original Covid-19?
Name of Covid viral strain
Scientific name
Incubation period
Most common symptoms
How contagious is it?
Covid-19

Sars-CoV-2

Between one and twelve days after first day of contact with the virus

Fever

Dry cough

Feeling tired

Covid B117

Sars-CoV-2 VUI 202012/01

Between two and twelve days after first day of contact with the virus

Sore throat

Fever and/or chills

Lack of breath

Difficulty breathing

40% to 70% more contagious than original strain
Frequently asked questions about the Covid "super strain"
All viruses tend to develop mutations over time. Hence, as viruses are able to reproduce and thrive, they have the opportunity to change and mutate. In the case of Covid-19, this virus has had many small changes as well as major mutations since it emerged. These are the main variants of coronavirus strains:
The UK strain:

this coronavirus variant is known as Covid B117, and its scientific name is "VOC 202012/01". This UK strain was originally reported to the World Health Organization on December 14 of 2020. However, this virus which has been called a Covid "super strain" was first detected in southeast England in September of 2020. Since then, Covid B117 has spread rapidly through the UK, becoming the dominant strain in England. Unfortunately, this coronavirus variant is up to 70% more transmissible than the original one.

The South African Strain:

South Africa´s health authorities announced the detection of a new Covid variant on December 18 of 2020. Subsequently, the new African Covid strain has spread throughout South Africa. Hence, it has now become the dominant strain in this African country.

A variant was found in mink in Denmark:

On November 5

th

, Denmark´s health authorities reported a new Covid variant found on mink. This new variant has affected this country´s mink farming sector. In addition, there have been more than 200 human cases that have been caused by this "mink variant".

The Brazilian Covid strain: This novel coronavirus strain was recently reported in Japan, in early January of 2021. Moreover, it's worth noting that the new Brazilian variant is similar to the UK and South African strains. Similarly to these two strains, the Brazilian variant also seems to be more contagious. However, even though it's more contagious, the variant seems to be the same as the original variant in terms of the severity of illness that it causes.
Germany

Australia

Belgium

Brazil

Canada

China

Chile

South Korea

Denmark

United Arab Emirates

Spain
United States

Finland

France

India

Ireland

Israel 

Island

Italy

Japan

Jordan

Lebanon
Malta

Mexico

Norway

United Kingdom

Netherlands

Paquistan 

Portugal

Singapore

Sweden

Switzerland

Taiwan

Turkey
According to scientists working at the University of Warwick in England, recent research suggests that current Covid-19 vaccines will be effective against this new strain. In this sense, it is worth noting that vaccines are designed to attack different parts of the virus. Therefore, if a virus suffers a mutation or change, the vaccine should still be effective in attacking its remaining characteristics. Nevertheless, if a virus achieves many mutations, current vaccines may become ineffective.