Omicron, the new Covid strain is spreading swiftly across the world
LIVE BLOG: Last update: January 4, 2022
Omicron's latest news – January 3rd, 2022
Omicron, the new Covid strain, is now the most dominant variant in the US.

Omicron now accounts for 73% of all new cases in the US.

In the Northwest and Southeast of the US, Omicron is even more prevalent, with over 95% of its current cases being due to this variant.

Omicron is currently present in 48 US states and will soon be present in all 50 states.

 The World Health Organization believes that Omicron cases are doubling every 1.5 to 3 days.
The World Health Organization has designated Omicron as a variant of concern
After two years of a long and grueling Covid pandemic, many of us would like to say that the worst has passed. However, it may have just begun. Last November, South African authorities announced the discovery of a new Covid strain: Omicron. This new Covid super-strain has raised concern across the world due to its unusually high number of mutations. Therefore, many nations have rushed to establish new preventive measures and travel restrictions. Why has there been such an urgency to take new measures against the Omicron variant? Because this pandemic has taught us that acting fast and decisively is vitally necessary.
Omicron, the new Covid strain was first detected in South Africa and was reported to the World Health Organization on November 18 of 2021. Consequently, due to its unusual and high number of mutations, it was quickly classified as a variant of concern by the WHO.
The World Health Organization has stated that Omicron has many genetic mutations. Due to these mutations, the new Covid strain may be highly transmissible. Thus, it may be able to spread rapidly from person to person, even among vaccinated individuals
According to the World Health Organization, Omicron's unique characteristics enables this new strain to be highly transmissible. In addition, the risk of re-infection due to Omicron is much higher when compared to other covid strains, including the Delta variant. Moreover, WHO´s authorities believe that this new strain can cause severe illness and it may even be able to reduce the efficacy of several vaccines. Nevertheless, scientists still consider that more research and studies are needed to know Omicron's true nature.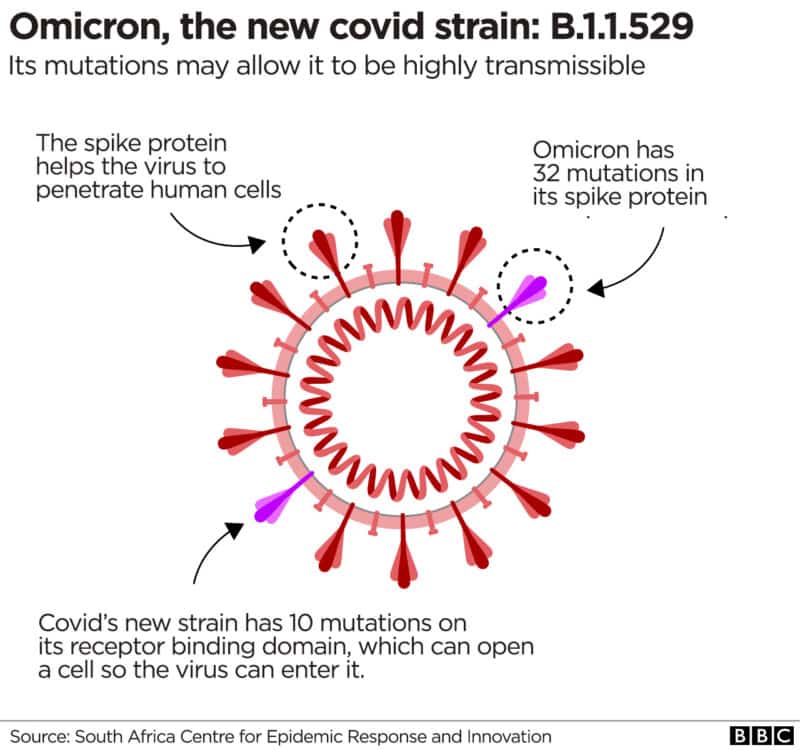 Omicron is moving fast across the United States and Canada; Mexico may be next.
Just a few weeks ago, the United States, Canada and Brazil reported its first Omicron cases
In Brazil, two travelers, a 37-year-old woman and a 41-year-old man tested positive for the Omicron variant. Their positive result came after traveling from South Africa to Sao Paulo, Brazil.
In the United States, the first Omicron case was reported on November 29th, 2021. The arrival of the new variant came with a man who travelled from South Africa to the United States on November 22nd of 2021. On November 29th he had a positive Covid test result, and Omicron was detected as the variant causing its viral infection. Dr. Anthony Fauci, Director of the National Institute of allergy and Infectious Diseases, confirmed that this individual had received the first two doses of the Covid vaccine, but had not received the third (booster) shot.
Did you know that?
Omicron, the new covid strain, multiplies in the respiratory tract 70 times faster than the Delta variant. In addition, it is twice as infectious as the Delta variant and four times more infectious than the original Covid-19 virus.
The Omicron variant has reached Mexico: National Health Authority
On Friday December 3rd, 2021, Mexico's Director of Epidemiology declared that the first case of the Omicron strain had been detected in Mexico. The first case occurred on a 51-year-old South African citizen who arrived in Mexico on November 21st, 2021. Subsequently, six days after his arrival he started with symptoms related to a Covid-19 infection. Therefore, Mexican authorities performed antigen and PCR tests for Covid, and confirmed that it was a confirmed new case. Immediately after, samples were sent to the National Institute of Diagnostic and Epidemiology (InDRE), where further studies were performed. Finally, after several days of testing, the InDRE confirmed that this was the first case of an Omicron infection in Mexico.
Mexican health authorities have identified and confirmed the following Covid strains in Mexico: Alpha, Beta Gamma and Omicron.
What are the common symptoms of the Omicron variant?
Mexico´s Health Subsecretary, Dr. Hugo Lopez Gatell declared: "Evidence does not show that Omicron is more infectious". World health experts disagree.
Angelique Coetzee MD, President of the South African Medical Association, stated in a press release that so far, patients infected with the Omicron variant had mostly mild symptoms. The most common Omicron symptoms detected in South African are headaches, sore throat, fatigue, and body aches. In this sense, it's worth noting that Angelique Coetzee MD, was the first physician to alert the South African health authorities of the probable existence of a new Covid strain.
In Mexico, the country´s Health sub-secretary Dr. Hugo Lopez Gatell, made controversial declarations. Dr. Gatell stated that Omicron, the new covid strain, has not proved to be neither more transmissible nor more virulent. 
By itself, the new Omicron strain has not demonstrated to be more virulent, nor more transmissible. As of today, data does not show that it can cause more severe illness. In addition, Covid vaccines remain effective for this variant and normal medical treatments continue to work
Unfortunately, these statements generated anger and controversy among Mexican scientists and doctors. The source of this controversy was that just days before, the WHO had declared that Omicron could pose a serious and grave threat to the world.
Omicron frequently asked questions