Dr. Sergio del Hoyo and Hospital CMQ Premiere certified by the CMCOEM
Obesity is the world's number one public enemy says the Organization for Economic Cooperation and Development (OECD). Unfortunately, it has reached pandemic levels. Affecting all western countries. This issue is of such severity, that 50% of such countries' population is overweight. And one in every six residents is obese.
In Mexico, the problem of obesity is even more serious. One in three adults suffers from this condition. However, the most alarming fact is that according to UNICEF, Mexico ranks first worldwide in childhood obesity. A fat child can be an obese adult.
The Mexican College of Surgery for Obesity and Metabolic Diseases A.C. (CMCOEM) stresses the need for bariatric surgeons who are highly trained to fight this issue. This is why the XX International Congress of Surgery for Obesity and Metabolic Diseases was held in Puerto Vallarta, Jalisco from July 3 to July 7, 2018.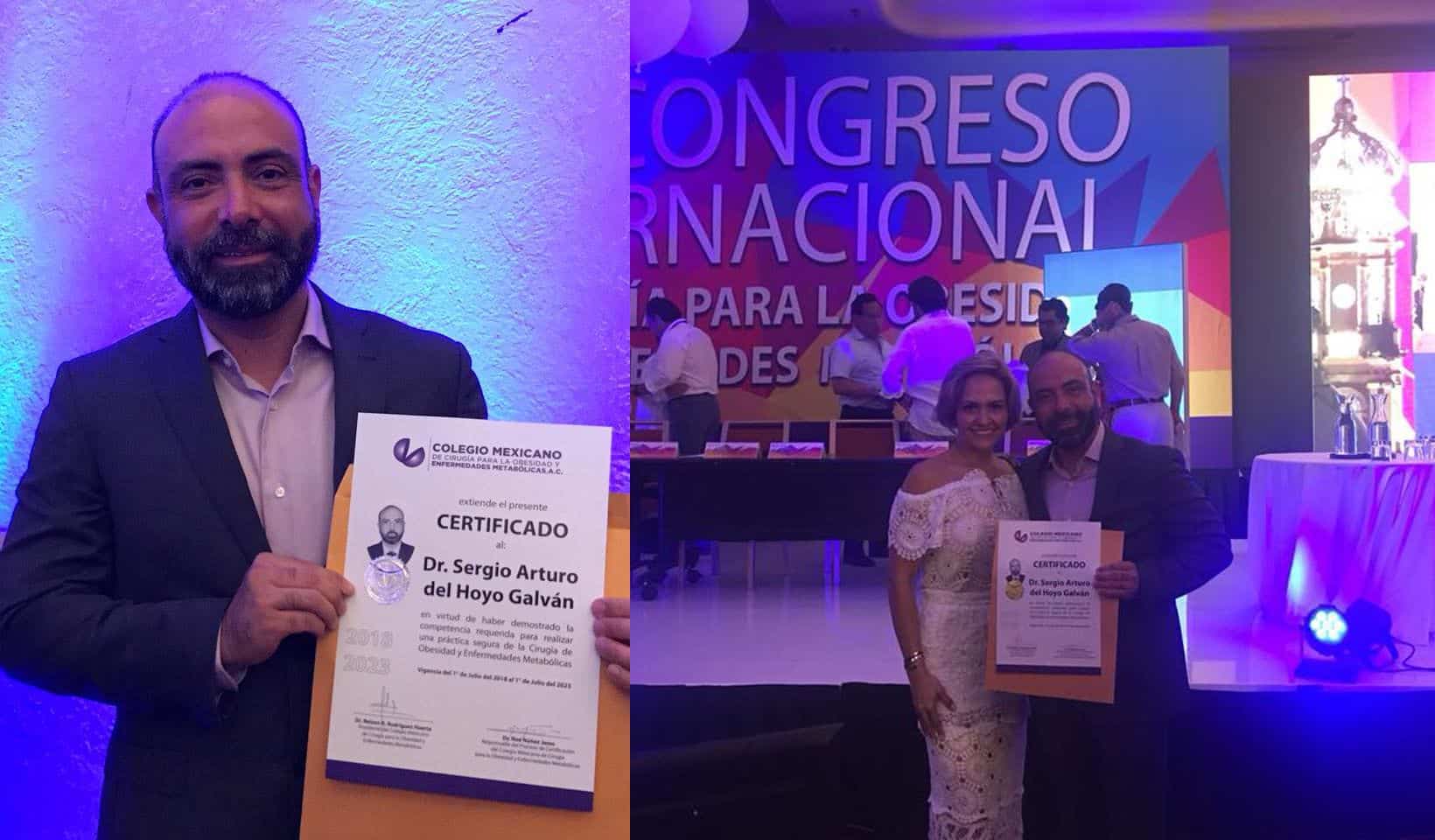 This event brought together renowned surgeons in the field. Including our obesity surgery specialist, Dr. Sergio Arturo del Hoyo Galván, who states that a surgeon's constant updating on new knowledge and techniques is necessary for the patients' optimal care and to be ready to fight obesity.
Likewise, the CMCOEM advises surgeons and specialists not to put aside their continuous education. For this motive, they invite their members to many congresses and symposiums. Increasing the number of certified and committed surgeons and hospitals. Our very own, Dr. Sergio del Hoyo achieved an official and international Bariatric Surgeon Certification during this important event. Alongside, our Hospital CMQ Premiere, —where he performs his safe practice—. Both of these certifications cover the years from 2018-2023.
What is the CMCOEM Certification?
The Bariatric Surgeon Certification is a long and arduous process that carries out in conjunction with the Mexican Council of General Surgery A.C. and the Mexican College of Surgery for Obesity and Metabolic Diseases A.C. This certification is a voluntary process that demonstrates a surgeon's commitment to his/her continuous medical updating, safe bariatric surgery practices, and constant quality improvement for overweight and obese patients' well-being.
"Getting certified is very important when performing our procedures. Achieving this certification was an extensive process. We demonstrated surgical skills, knowledge, and success cases in previously operated patients," states Dr. Sergio del Hoyo
This certification guarantees that the bariatric surgeon has met the essential requirements to practice his/her specialty safely. Also, he has a qualified team/surgical facilities that meet the highest health standards.' Our team is highly multidisciplinary in terms of obesity treatment and surgery. Not only am I a surgeon, but there is a whole team specialized and trained in nutrition, psychology, internal medicine, cardiology, and anesthesiology, concludes.
CMCOEM Certification and Hospital CMQ Premiere
Thanks to the agreement between Dr. Sergio del Hoyo and Hospital CMQ Premiere, our specialist's certification includes the facilities where he performs his practice.
This certification is a process through which not only is our specialist's labor well known, but also the labor of our hospital center. According to the requirements established in the CMCOEM regulations. This certification for Hospital CMQ Premiere guarantees compliance with a series of internationally recognized requirements and best practices.
For more information about Dr. Sergio del Hoyo, click here.
To make an appointment call 01 (322) 226-6500 or 01 (329) 298-0717