Omicron Symptoms: The Covid-19 Variant That Is Still Present Worldwide
The Omicron Variant Remains A Public Health Risk Around The World
Omicron symptoms are not considered more severe than the symptoms of other SARS-COV-2 variants. However, they are responsible for the current increase in COVID-19 infections worldwide. Since it was declared a variant of concern on November 26, 2021, Omicron is the dominant strain of COVID-19 worldwide. It is the most contagious variant to date.
As we enter the third year of the coronavirus pandemic, Omicron remains a threat to billions of people. According to a statement issued by the World Health Organization, WHO, there are several factors that are driving an increase in the spread of COVID-19. One factor are the Omicron symptoms, as the virus continues to evolve, the risk of discovering new variants is also high.
Symptoms: Differences between the COVID-19 Variants and the Common Cold
Although most of the COVID-19 symptoms and its variants are very similar to those of a cold or a throat infection, there are certain differences: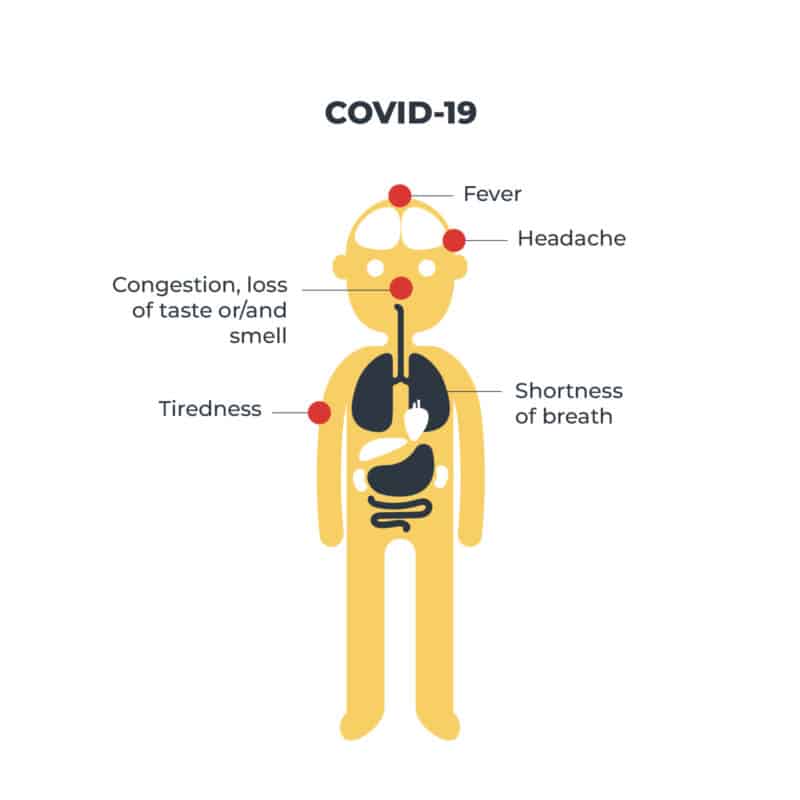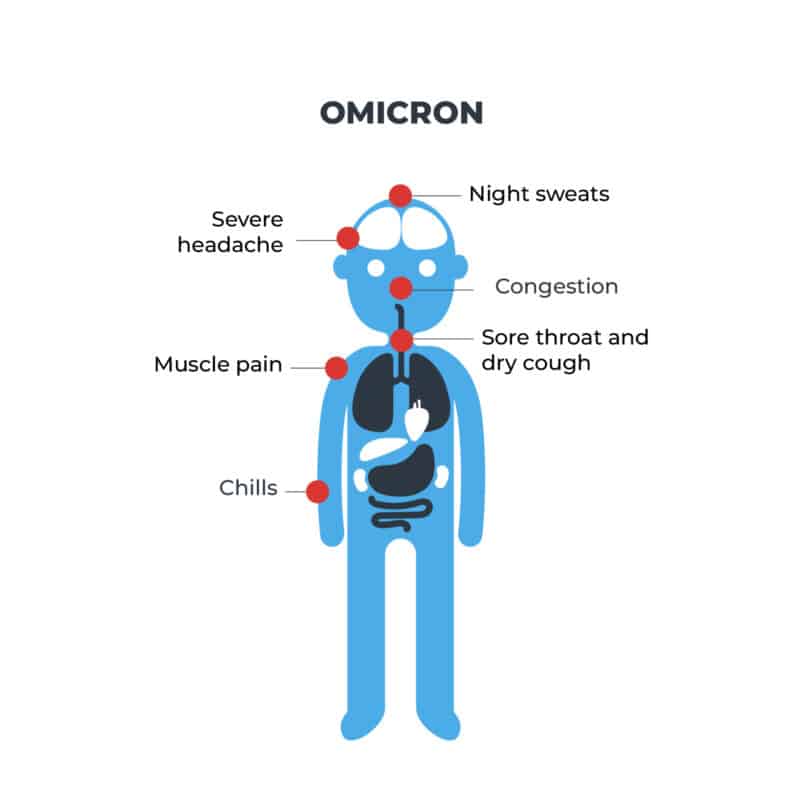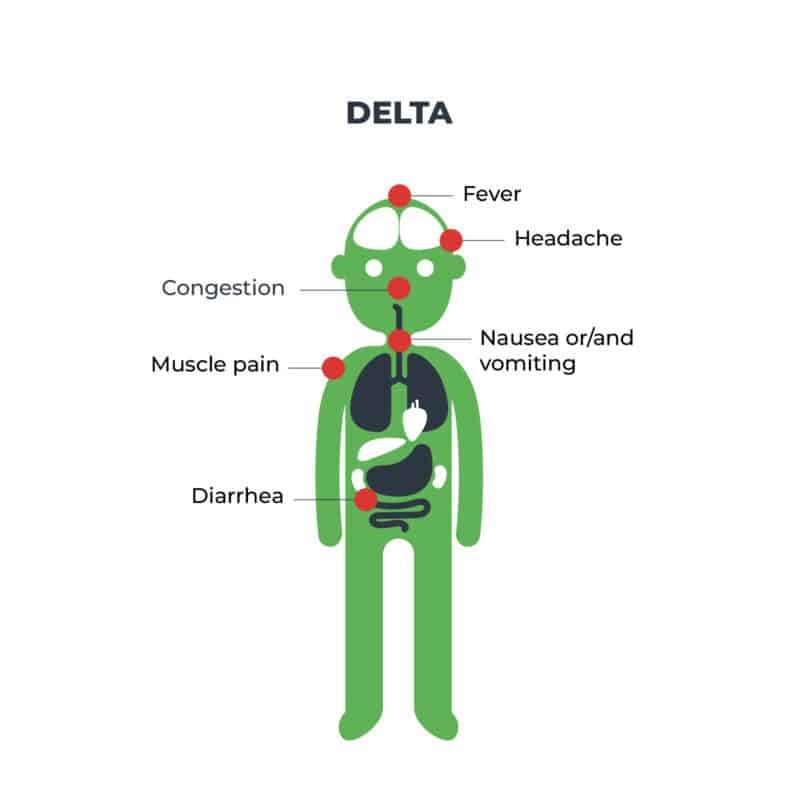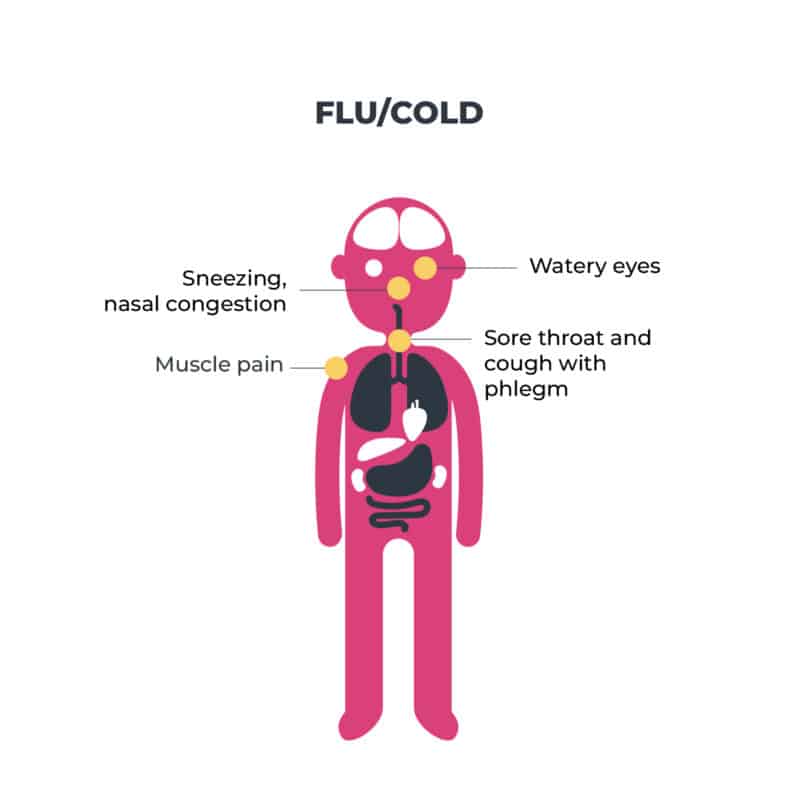 Omicron Symptoms in Adults
Sore throat and Dry Cough
As we know, COVID-19 is a disease that mostly affects the respiratory tract, especially the throat and lungs. Sore throat and dry cough are symptoms of Omicron, so if you have one or both of these, we recommend you take a coronavirus test. Furthermore, these symptoms are common to all age groups, and they are usually mild.
Fatigue and Physical Exhaustion
Physical tiredness and fatigue are key symptoms of COVID-19. They are also symptoms of Omicron. To distinguish these symptoms, our experts identify if there is extreme fatigue that is accompanied by mental fog or brain fog.
Severe headaches are one of the first symptoms of Omicron, even more common than coughing, fever, and tiredness. However, headaches can be a symptom of many other diseases. Fortunately, experts have identified signs to differentiate an Omicron headache: It is a moderate to intense pain with a sensation of pressure or stabbing. The location of the pain is on both sides of the head and usually lasts more than three days.
Mucus and a runny nose are universal symptoms of the cold, flu, and COVID-19. They are also symptoms of Omicron. These symptoms last approximately two to five days after detection of the virus.
According to Mayo Clinic, night sweats are a specific symptom that distinguishes Omicron from other variants of COVID-19. These night sweat episodes are characterized by the presence of sudden and intense sweating. However, this Omicron symptom may be related to other medical conditions or underlying illnesses.
Omicron Symptoms in Children
The Omicron variant is the most contagious strain to date for all age groups, including adults and children. However, Omicron symptoms were seen more frequently in unvaccinated people. As a result, minors were more affected. According to our Pediatric Pulmonologist, Dr. Salvador González, the Omicron variant manifests itself in children through a dry and raspy cough, accompanied by an intense sore throat. Likewise, it mentions some of the most frequent symptoms of Omicron in children and adolescents:
Nasal congestion

Headache

Fever

Diarrhea
If you suspect that your son or daughter has Omicron symptoms, schedule a COVID-19 test at CMQ Hospitals by calling 322 226 6500 ext. 412
Preventative Actions in the Presence of Omicron Symptoms
According to the WHO recommendations, the most important measure we must take is to reduce exposure to the virus. Likewise, the main prevention measures for Omicron are:
Use face masks in closed spaces.

Wash your hands frequently.

Keep a minimum physical distance of one meter.

Avoid poorly ventilated spaces.

In closed spaces, open the windows to improve ventilation.

Get vaccinated. Check with your local health authority for more information on available approved COVID-19 vaccines.
Frequently Asked Questions about Omicron Symptoms
At the beginning of the pandemic, the incubation period for COVID-19 was estimated to be between 4 and 14 days. However, with the Omicron variant, the onset of symptoms usually occurs on the second or third day after contact with a positive person.
Yes, according to data from a study done by the Imperial College of London, the possibility of a person being infected again with Omicron is much greater than with other variants of Covid-19. Also, a person can be infected several times from different variants.