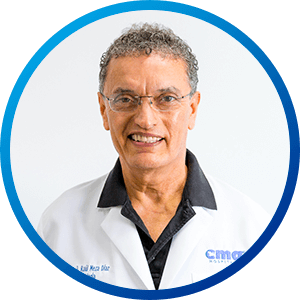 Raul Meza, MD. Urology
Hospital CMQ Health Provider
---
Languages:
English, Spanish
About | Raul Meza, MD. Urology
Dr. Raúl Meza is a graduate of the University of Guadalajara as a Surgeon and Midwife. He then specialized in Urology in the Jalisco Health Sector. It has more than three decades of experience and is characterized by providing service and care meeting the highest standards of medical quality.
Likewise, the diseases and conditions that Dr. Raúl Meza treats are all those that compromise the health of men and the male genital tract such as benign prostatic hyperplasia, erectile dysfunction, infertility, kidney, and urinary tract malformations, stone formation. or kidney stones, urinary incontinence, and genital problems such as hydrocele and varicocele.
However, Dr. Meza also provides world-class care for women and children with kidney and urinary tract conditions. The reason, urology is a specialty that deals with the diagnosis and treatment of kidney and urinary diseases that affect both sexes; as well as diseases of the male genital tract, without an age limit.
In addition, our specialist in urology, Dr. Raúl Meza is certified by the Mexican College of Urology. Likewise, it works using first-rate technology and is an active member of different associations, among which are:
Mexican College of Urology.

The Latin American Society of Laparoscopic Surgery in Urology.
Thanks to this, Dr. Meza is recognized as one of the best specialists in Urology in Puerto Vallarta. Similarly, he is an expert in the treatment of Prostate Cancer and Prostate Surgery. He has 35 years of experience and serves his patients at Hospital CMQ Centro, CMQ Premiere, and CMQ Riviera Nayarit.
Locations | Raul Meza, MD. Urology
Our Locations
Most common procedures | Raul Meza, MD. Urology
Prostate and Testicular Cancer
Gallery | Raul Meza, MD. Urology
Professional and Specialty Studies | Raul Meza, MD. Urology
Education: Graduate of General Surgeon and Obstetrician at the University of Guadalajara, 1973-1979.
Undergraduate Internship: Hospital Ayala of the Mexican Institute of Social Security, 1978-1979.
Social Service: Social Service in Tomatlan, Jalisco, 1978-1979.
Specialty: Urology at the Mexican Institute of Social Security, 1982-1985.
Specialty Residency: Urology Residency at the Hospital de Especialidades, Centro Medico de Occidente, 1980-1985.
Certifications | Raul Meza, MD. Urology
Certified as a Fellow of the Sharp Care Hospital, San Diego, California.
Assistant in the course "HIV and Prevention Measures for Health Personnel.