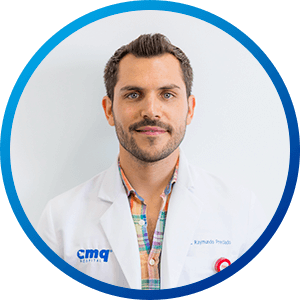 Raymundo Preciado, Nutrition
Hospital CMQ Affiliated Staff
---
Languages:
English, Spanish
About | Raymundo Preciado, Nutrition
Lic. Raymundo Preciado, head of the Department of Nutrition of Hospital CMQ, is a graduate of the University of Guadalajara. Active member of the Society of Students of the Degree in Nutrition. Raymundo Preciado is a nutritionist who is characterized by providing respect and highly qualified care to his patients. Its services include Nutrition in Diseases, Enteral and Parenteral Nutrition, Weight Gain and Reduction, Nutrition in Bariatric Patients, among others.
One of the objectives of "Nutrition to your Measure," program of Lic. Preciado is: to improve your health through a good diet. It has a method based on treatment protocols for each type of disease such as obesity, diabetes, hypertension, kidney failure, metabolic syndrome, anorexia, bulimia, etc. When you go to Lic. Raymundo Preciado, you will receive a personalized diet plan at the diagnosis that fits your lifestyle, providing you with different purchasing options and food preparation suggestions.
Locations | Raymundo Preciado, Nutrition
Our Locations
Hospital CMQ Premiere is located five minutes away from Fluvial Vallarta, Costco, Macro Plaza, Marina Vallarta, Las Aralias and the Main Hotel Zone.
CT Scan and Open MRI Studies, ICU, Urgent care center open 24/7, and Walk-in clinic.
Av. Francisco Villa 1749 Col. Vallarta Villas Puerto Vallarta, Jalisco, Mexico.
Make your appointment!
Most common procedures | Raymundo Preciado, Nutrition
Professional and Specialty Studies | Raymundo Preciado, Nutrition
Graduated with a Bachelor's in Nutrition from the University of Guadalajara with Academic Excellence, 2004-2009.
Social Service in the Old Civil Hospital of Guadalajara "Fray Antonio Alcalde", 2009-2010.
Professional Practices in the Regional Hospital of Ciudad Guzmán, Jalisco, 2007.
Certifications | Raymundo Preciado, Nutrition
Attendance to the Nutrition Updating Course Days, University Center of the South, Ciudad Guzman, Jalisco.
Assistance to the XXII "National Congress of the AMMFEN".
National Nutrition Congress "Current and Future Treatments in Chronic Diseases, Cancer, Kidney Diseases and Obesity."
International Nutrition Congress "Application of New Strategies to Optimize Nutrition Therapy".